The Ultimate Portable Kitchen
Cook anywhere using the Solo Stove Lite Cooking Kit with InstaFire Fire Starter!  
The Solo Stove Lite Cooking Kit bundles the Solo Stove Lite and Solo Pot 900 with InstaFire Fire Starter (12-pack) so you'll never want for a hot meal or beverage. This combo gives you:
An incredible second-combustion STOVE that lets you cook anywhere without having to pack fuel. Cook complete meals using just the twigs, leaves, or newspaper you find along the way.
A tough-and-ready stainless-steel POT designed for quick-carry and extreme conditions.
PLUS
12 Pouches of lightweight and water-repellent FIRE STARTER to build a hot, glowing fire almost instantly.
The stove and pot pack together easily to create a complete, lightweight cooking unit that fits nicely into your bug-out bag or overnight hiking pack while our Fire Starter is lightweight and easy to pack.
The total package for your emergency supply or camping gear:
Tough-as-nails, 304 stainless-steel build
Lightweight—Just 16.8 oz for the Stove and Pot
Secondary-combustion technology
Boils water in just 8 minutes
Easy to clean with just a little warm water

Holds 30 fl. oz
Solo Stove Lite
When you see how small this is, how wells it cooks, and how easy it is to use, you will want one in your camping gear, RV, and emergency food storage. What are the benefits of the Solo Stove Lite?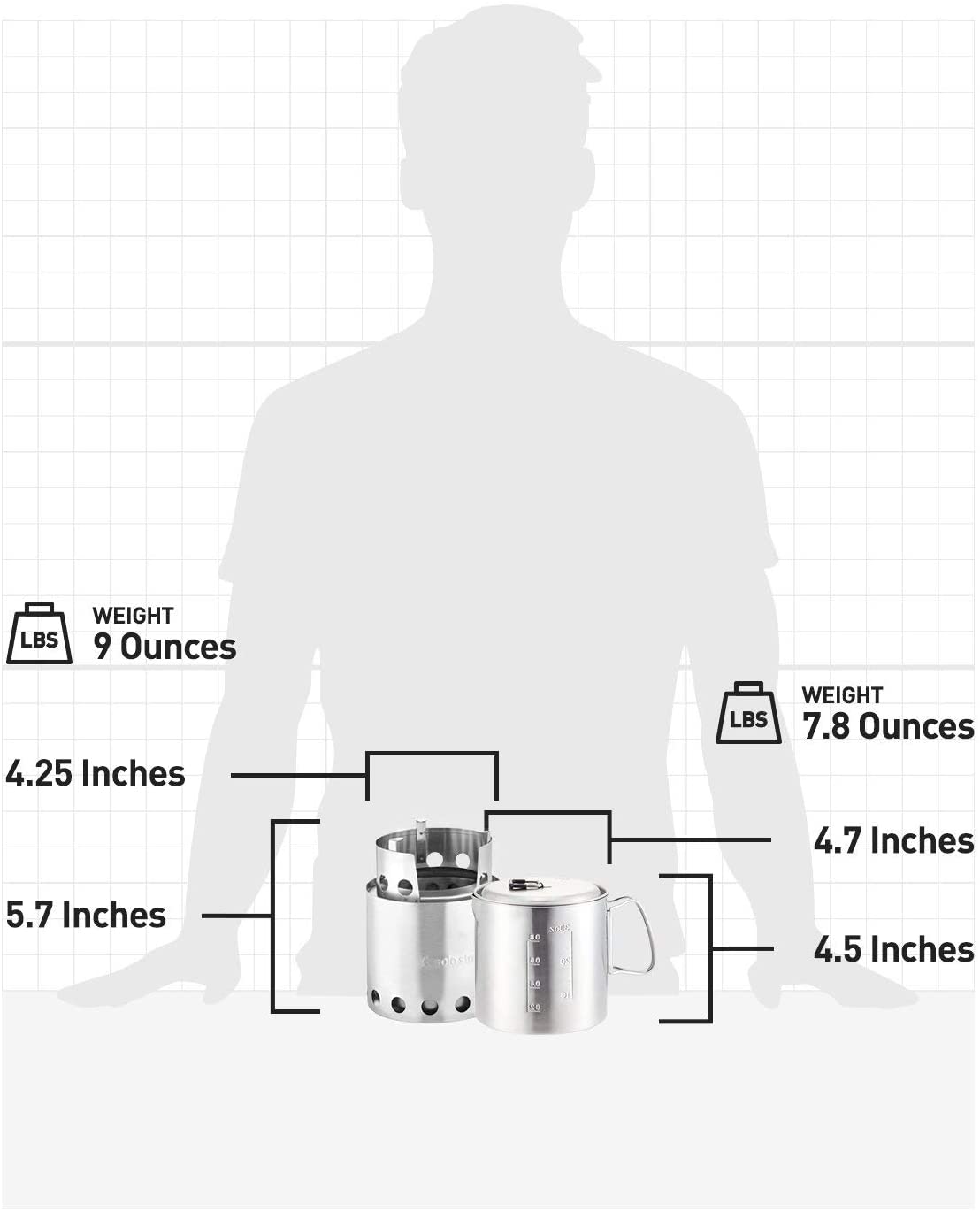 PATENTED DESIGN - LESS SMOKE. It features a unique double wall that creates ultra-clean gasification and a secondary combustion. This allows fuel to burn more completely and with less smoke. That's important! 

EASY FUEL. No more spending money on white gas which is hard to transport or expensive liquid canister fuel. The Solo Stove Lite uses twigs, leaves, pinecones, and our InstaFire Fire Starter. Eliminate the need to carry heavy, polluting, and expensive canister fuels that break down over a short period of time.

LIGHTWEIGHT & FAST BOIL TIME. Boils water in 8-10 mins (34 fl oz water). It is 4.25" Diameter, 3.8"/5.7" tall (packed/assembled). The Solo Stove weighs only 9 oz. Made of premium stainless steel and nichrome wire. A nylon stuff sack is included.
---
How it Works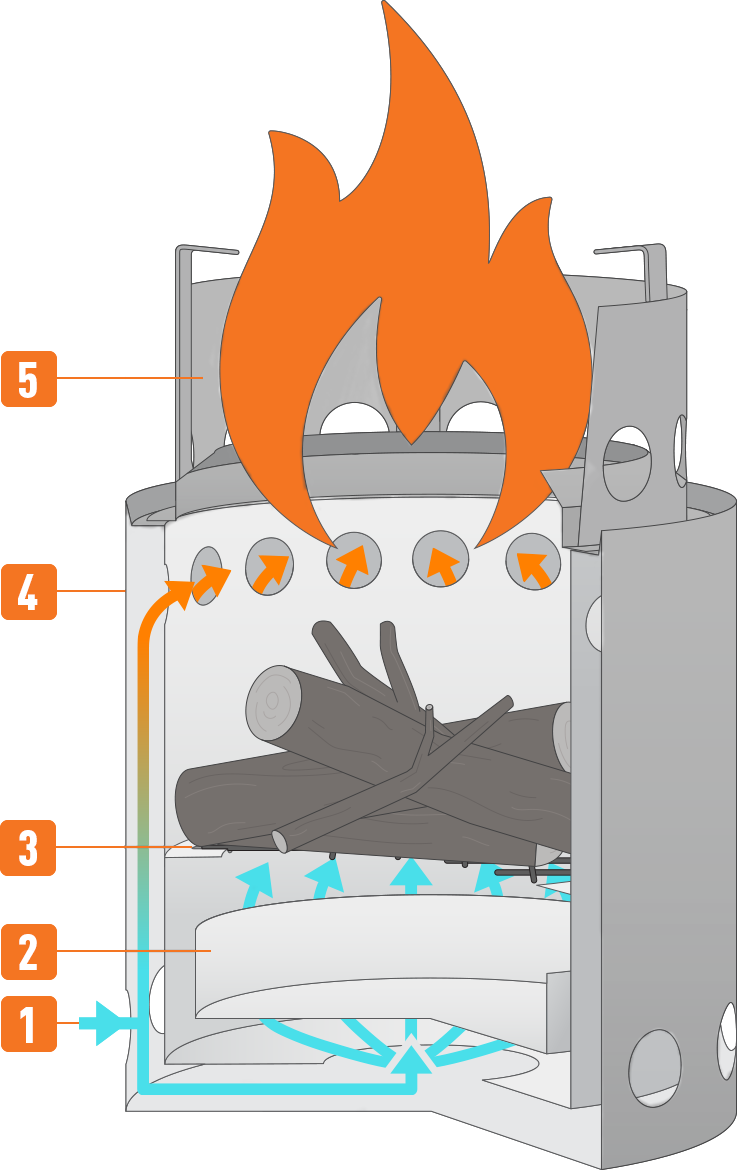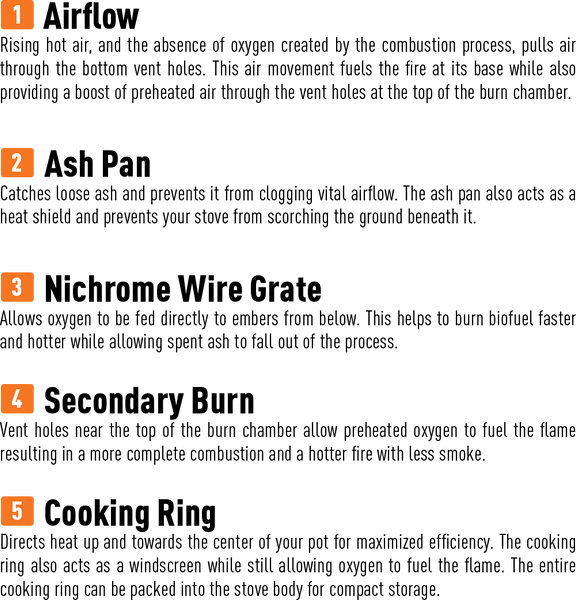 Twigs for Fuel, Hotter Fires, Less Smoke and Way More Fun!
The Solo Stove Lite is the perfect addition to anyone's bag as a lightweight cooking stove for one to two people. The best part? No fuel to carry! Your food shouldn't depend on carrying or finding a place that sells gas when nature provides the perfect tinder and wood all year. Plus, gas disappears in an instant during an emergency!
Now you can minimize your pack weight and your footprint with this ultra-efficient stove. The Solo Stove Lite operates on small twigs and sticks, our InstaFire Fire Starter, or an alcohol burner, to fuel the fire while the air intake holes on the bottom pull air in towards the fuel source. While air is being pulled in, the double-wall construction allows air to be heated up and fed through the top vents providing an extra boost of pre-heated oxygen, creating a secondary combustion. With this patented design, you'll get a hotter fire with less smoke!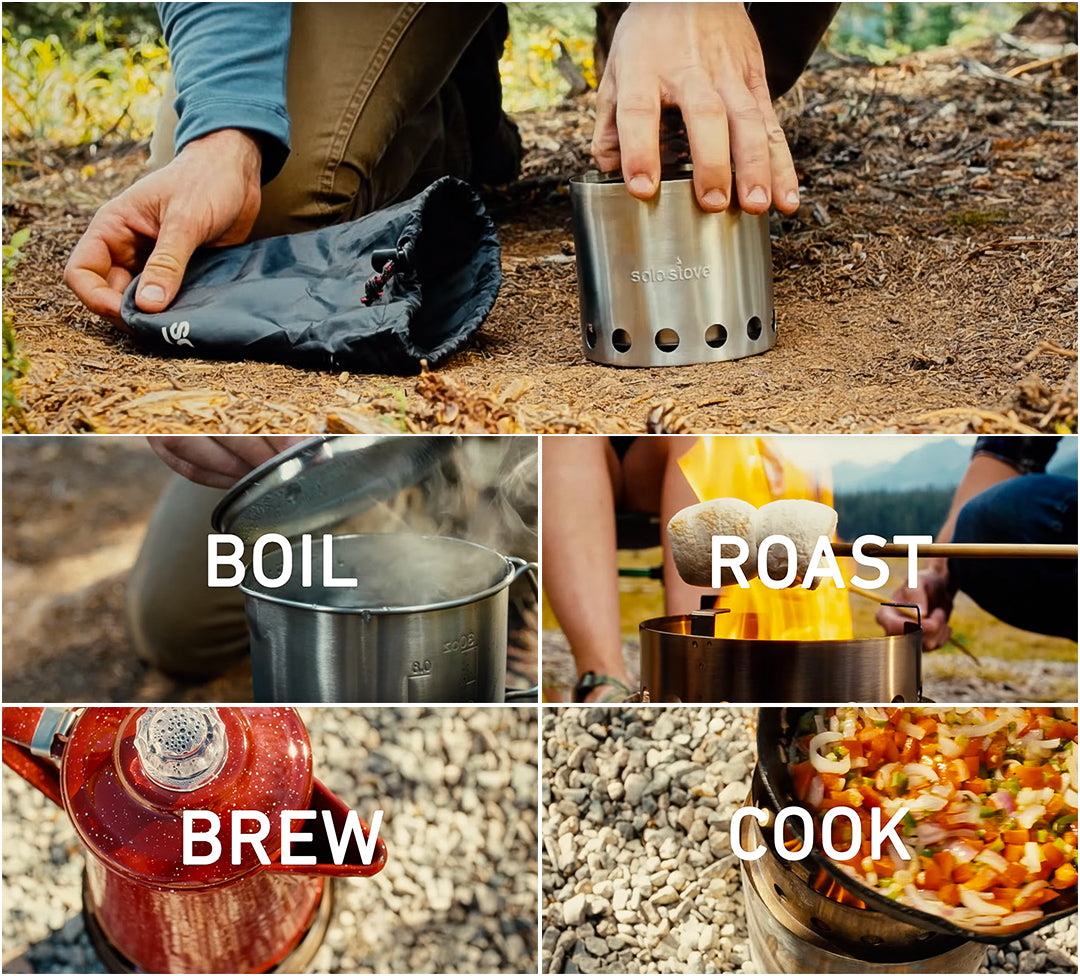 Solo Stove Pot 900
The Solo Stove Pot 900 has double fold out handles, a lid that locks on tight and a pour spout. Made with 304 Stainless Steel, it is lightweight and durable. The Solo Stove Lite boils water in only 8-10 minutes.
Use this pot to prepare food and boil water when you need an off-grid solution. Perfect for camping, hiking or emergency use. Comes with a black nylon bag to pack away easily.
Easy to clean
Measurement lines in oz and mL
Pour spout
Black nylon bag with drawstring for storage
Double fold out handles
Rubber coated lift tab
Holds 30 fl oz
Weighs 7.8 oz
InstaFire Fire Starter
Worried about finding kindling but don't want to weigh down your pack? Use our lightweight, water-repellent Fire Starter from InstaFire.
The perfect substitute for wood and other fuel sources, this Fire Starter has a 30-year shelf life and stores safely near food. So throw it in with your camping gear or your bug-out bag for the ultimate peace of mind.
Discreet, Secure Shipping
For your privacy and security, packages are delivered discreetly to your doorstep in unmarked boxes.
30-Day Returns
No questions asked on unopened, unused products.
Price Guarantee
If our online product price drops within 30 days of your purchase, we'll match the lower price, upon request, with an online store credit.
Here Are More Great Reasons to Buy from Us
We're Independent.
Around here, you won't find any slick bankrollers or financiers behind the curtain. We're 100% family owned and owe nothing to anyone but you!
This frees us up to do things the right way: craft our own recipes, cook our own food, fill our own food pouches, and ship our own orders. We own three large, fully stocked warehouses spanning over 500,000 square feet which ensures the quality packaging of your order.
Others cut corners and outsource their shipping to third parties and that's just not right. It's also why our quality and savings are better than the rest—and we pass those right along to you with fair pricing.
Free Disaster Replacement Warranty
We are proud to offer the survival industry's very first free disaster replacement warranty. If your My Patriot Supply purchases are destroyed in a natural disaster, our warranty replaces them all, and no cost to you.
Click here to sign up for My Patriot Supply's Disaster Replacement Warranty.
Record-Fast Shipping Speeds
Customers call our shipping "impressive," "flawless," and "man-that-came-fast" excellent.
Double Protection, No Cutting Corners
We take the extra steps that others don't to protect your food with double-sized oxygen absorbers and ultra-thick, four-layer pouches that we test again and again to ensure quality.
5-Star Customer Service (Literally)
We've served several million American families over the past decade. Our customers have spoken, giving us 4.8 out of 5 stars based on tens of thousands of reviews.
2,000+ Calories/Day in our Food Kits
Our food kits provide 2,000+ quality calories per day with the nutrition you need (you'd be shocked at how many competitors skimp and don't do this!).
We're Serious about Your Privacy
Ordering is 100% secure and we never sell your information. Our packages ship discreetly to your doorstep in a plain brown box with no branding.