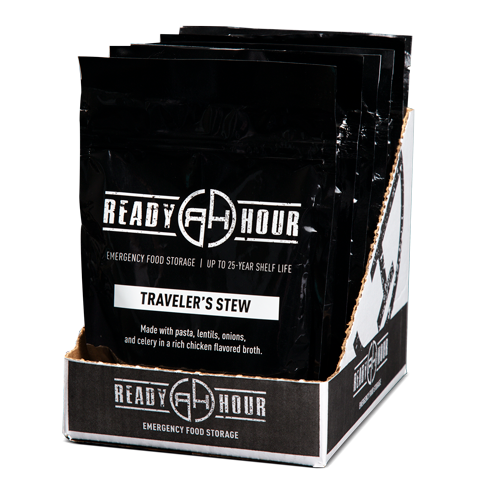 A Throwback "Freighthoppers" Recipe! Filling and Nutritious. 
Whether you are traveling on foot, by bicycle or by plane, be sure to pack some Traveler's Stew. It is a hearty fare with the right pinch of spices for an active lifestyle.
Ready Hour's Traveler's Stew combines your favorite ingredients - pasta, lentils, carrots, celery and onion - in a rich chicken broth. A special blend of savory herbs and spices brings to mind those slow-cooked meals from childhood.
Buy a case of Ready Hour Traveler's Stew as a wonderful main dish in your daily meal rotation. Or buy in bulk to customize your survival food supply. Traveler's Stew provides the comforting goodness and balanced nutrition you will need to stay strong in an emergency. Our case packs make it easy to share Traveler's Stew with friends and family, too.
Ready Hour case packs allow you to buy in large quantities, without wasting what you don't use right away! These cases come with eight pouches of stew. This helps you maintain the shelf-life of your food until you're ready to cook it.
The Traveler's Stew Case Pack boxes are 7 1/2 x 6 1/2 x 9 inches. NET WT. 8.04 oz (228g) per pouch, for total weight of 64.32 oz (1824g). Total weight of 4.65 pounds.

Traveler's Stew Features: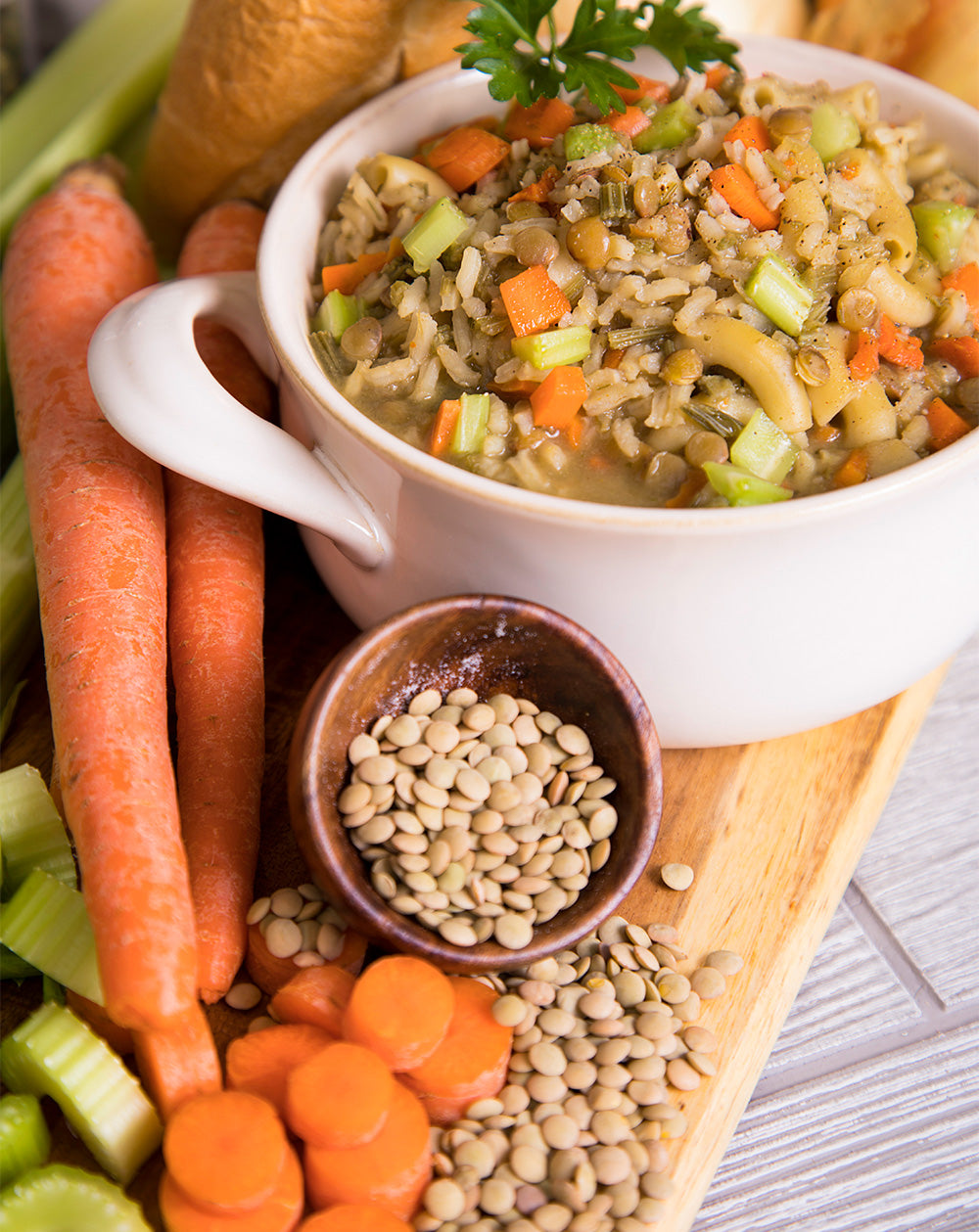 Bulk cases with multiple pouches
Ultimate in convenience and choice
Easy to prepare
Balanced Nutrition
Ideal for off-grid use
Up to 25-year shelf-life unopened
Up to 1-year shelf-life after opening
Includes 8 pouches
4 Servings per pouch
Requires no refrigeration
Made in the USA 
Directions for Traveler's Stew:
Discard the oxygen absorber packet immediately after opening.
Measure correct amount of Traveler's Stew Mix and water. Bring water to a boil.
Add the Traveler's Stew mix, whisking to blend.
Boil for 3 to 5 minutes.
Turn the heat down to simmer and cook the Traveler's Stew for 25 minutes.
 Ingredients:
White rice (long grain rice, iron phosphate, niacin, thiamin mononitrate and folic acid), lentils, elbow macaroni ( wheat flour, niacin, ferrous sulfate [iron], thiamine mononitrate, riboflavin, folic acid), carrots, celery slices, chicken soup base [corn syrup solids, salt, corn starch, hydrolyzed corn and soy protein, rendered chicken fat, sugar, onion powder, disodium inosinate, disodium guanylate, spices, turmeric, dehydrated parsley, and silicon dioxide added to prevent caking], non-iodized salt, onions, sugar, yeast extract, whey, turmeric, garlic powder, caramel color. 
Allergen Alert: This product contains milk, dairy, and soy.
It's best to store this emergency food in a dry, cool location — a dark area, if possible, at temperatures between 55°F and 70°F. Actual shelf life may vary based on individual storage conditions.
* 2.5 gallons of water are needed to prepare entire case pack. Total calories 6,400.
Discreet, Secure Shipping
For your privacy and security, packages are delivered discreetly to your doorstep in unmarked boxes.
30-Day Returns
No questions asked on unopened, unused products.
Price Guarantee
If our online product price drops within 30 days of your purchase, we'll match the lower price, upon request, with an online store credit.
Here Are More Great Reasons to Buy from Us
We're Independent.
Around here, you won't find any slick bankrollers or financiers behind the curtain. We're 100% family owned and owe nothing to anyone but you!
This frees us up to do things the right way: craft our own recipes, cook our own food, fill our own food pouches, and ship our own orders. We own three large, fully stocked warehouses spanning over 500,000 square feet which ensures the quality packaging of your order.
Others cut corners and outsource their shipping to third parties and that's just not right. It's also why our quality and savings are better than the rest—and we pass those right along to you with fair pricing.
Free Disaster Replacement Warranty
We are proud to offer the survival industry's very first free disaster replacement warranty. If your My Patriot Supply purchases are destroyed in a natural disaster, our warranty replaces them all, and no cost to you.
Click here to sign up for My Patriot Supply's Disaster Replacement Warranty.
Record-Fast Shipping Speeds
Customers call our shipping "impressive," "flawless," and "man-that-came-fast" excellent.
Double Protection, No Cutting Corners
We take the extra steps that others don't to protect your food with double-sized oxygen absorbers and ultra-thick, four-layer pouches that we test again and again to ensure quality.
5-Star Customer Service (Literally)
We've served several million American families over the past decade. Our customers have spoken, giving us 4.8 out of 5 stars based on tens of thousands of reviews.
2,000+ Calories/Day in our Food Kits
Our food kits provide 2,000+ quality calories per day with the nutrition you need (you'd be shocked at how many competitors skimp and don't do this!).
We're Serious about Your Privacy
Ordering is 100% secure and we never sell your information. Our packages ship discreetly to your doorstep in a plain brown box with no branding.