THIS time, when there's a NEXT time, you'll be prepared.
Gather all these items to be truly prepared, including meals, a powerful water filter, a solar device charger & room light, a stove, fire starter, and much more.
Our Ultimate Solar Power & Cooking Emergency Food Kit is our most complete single emergency bundle yet. It's perfect for any disaster scenario—whether you have to grab and go or stay put and ride the emergency out. 
Here's what you get with this kit:
4-Week Food Supply by Ready Hour: 2,000+ calories per day – Up to 25-year shelf life. Breakfasts, lunches, dinners, and drinks. Complete, hearty, tasty, and easy-to-prepare meals all produced and packaged right here in the USA.

Alexapure Pro Water Filtration System: Get clean and safe drinking water from nearly any freshwater source. Filters out 200+ contaminants—up to 5,000 gallons from each filter.*

2-Gallon Bucket Emergency Fire Starter by InstaFire: Can start a fire and keep it going in even the most difficult conditions – rain, snow...even 30 mph winds!

Wireless Solar PowerBank Charger & 28-LED Light by Ready Hour: The only wireless charger made specially for disasters. Designed to keep your devices powered up through conditions (hurricanes, earthquakes, etc.) that would crush most other chargers

Solo Stove Lite: The perfect pick-up-and-go emergency stove. Fueled by twigs and leaves you find along the trail—cooks a full meal!

Folding Cutlery Tool by Ready Hour: You get a strong carbon stainless steel knife that will cut even the toughest food – plus a detachable fork and spoon so you feel like you're eating at home.

Stainless Steel Mess Cooking Kit (5 Piece) by Ready Hour: Includes a 34-ounce pot, 17-ounce pan, BPA-free mug, a Scrubber for cleaning, and a Nylon mesh bag.


Stainless Steel Drinking Cup: Solid handle. Lightweight. 

Waterproof Matches by InstaFire: 160 matches that can be lit in wind, rain, or snow.
If you bought all of these items separately, you would pay over $800.
But when you buy this Ultimate Kit today, you'll

save over $200.

 
The 4-Week Emergency Food Supply averages 2,000+ calories per day for one person for 28 days. Other lesser companies skimp on the calories/day and that's simply wrong - be sure to compare. Calories are what matter for survival. CALORIES = ENERGY = SURVIVAL.

These Ready Hour foods meet or exceed the highest standards in the industry. This food storage kit comes with 16 food varieties, and includes:
Meals averaging 2,000+ calories / day
Up to 25-year shelf life
56,940 calories in the kit, 256 servings,

38 pounds

Meals in resealable, heavy-duty 4-layer pouches

 with oxygen absorbers inside to extend shelf life

Foods proudly packed in the USA, n

o MSG added
Tasty breakfasts, lunches, dinners, drinks & snacks
Easy to prepare meals sealed into

two

rugged, water-resistant buckets (9.75" x 11.75" x 15.75") for long-term storage
Damage to lifelines, food supply chains, and infrastructure with an earthquake or flooding can be extensive.
When each person in your household has a 4-Week Emergency Food Supply, you'll be prepared for:
Minor power outages
Natural disasters that break supply chains and cut off access to stores
Pandemics, quarantines, or lockdowns
Food shortages or economic downturns
Civil unrest
Supplemental meals for everyday use or the cabin
A SOLID FOOD STORAGE PLAN
Where do you start? Preparedness advisers recommend at least three months' worth of food for every person in your emergency preparedness plan. Building a food storage supply for your home, cabin, shelter, or bunker is a journey.
If your budget is tight, start with a 4-Week Food Supply and then add additional kits to your plan each month. Over time, as you invest in your plan, you will feel more secure in your ability to survive an emergency.
CALORIES = ENERGY = SURVIVAL
Our mission is to offer you the highest quality survival foods and products at the most reasonable prices possible. It's the calories that matter during emergency survival.  
LOOK AT ALL THE FOOD YOU GET!
This 4-Week Food Supply Contains:
GOOD-AS-HOMEMADE ENTRÉES
QUICK & EASY SIDES
HOT & HEARTY BREAKFASTS
DELICIOUS SNACKS, DESSERTS & DRINKS
Alexapure Pro® Water Filtration System
The Alexapure Pro transforms water from virtually any fresh source into cleaner, safer drinking water.
Reduces up to 99.9999% of 206 contaminants, targeting: 
Heavy metals
Lead
Fluoride
Chlorine
Viruses & bacteria
Pesticides & pharmaceuticals
Clean drinking water. You can survive without it for about three days. How do you know yours is pure?
This is the ultimate water filtration solution. Alexapure Pro is a groundbreaking, gravity-fed water filtration system that outperforms others, for less. Alexapure products are the only brand of water filters we carry because we know you expect the very best. No more trusting city tap water. Use an Alexapure Pro to supply purified drinking water for your family. We do for ours.
The Details
Filter capacity of up to 5,000 gallons*
Uses as many as four filters at once
Stainless steel construction
Pre-primed filters 
Easy assembly, low maintenance
Gravity powered, no electricity needed
Extended filter life with daily use
Replacement filters are simple to install
Spigot provides instant access to pure water
Raw water capacity: 8.5 liters (2.25 gallons)
Fresh water capacity: 8.5 liters (2.25 gallons)
Stored height 14"
Top chamber 10"
Lower chamber 10 1/8"
Assembled 21 1/2" to top of handle
Top opening 8 1/4", largest diameter 8 7/8"
Did You Know?
The Alexapure Pro Filter removes 200+ contaminants from water, while preserving essential trace minerals.

The filter is tested to NSF/ANSI Standards and uses NSF/FDA-approved materials.
Click the button below to see the independent lab results!
Test Results
FAST CHARGING! Introducing the potential of the Ready Hour Wireless Solar PowerBank Charger & 28 LED Room Light.
Stay connected with sustainable power to carry you through the unexpected! No sub-standard power here... it has 20,000 mAh power (triple lesser competitor low-grade and older units - be sure to compare). And, you can charge up to three devices at once with it! 
This solid wireless solar charger is rugged and dependable, perfect for emergencies, natural disasters, and power outages. It's waterproof too. And rugged. Weighs 1.55 pounds. Keep one in the car. Take it camping or on a hunting trip. Keep in your RV or cabin. Any time you're outdoors and need to charge your devices or gear, you'll want a powerful device like this. You'll be thrilled at how it fits in your hand and how fast it charges your devices. Make sure your cell phone has a constant supply of power for emergencies! 
Power the devices you depend on, any time and anywhere. Or count on the bright, long-lasting 28 LED bank of lights. Once you see this unit, you'll want every member of your family to have one. 
The best part of charging is that two of the three USB ports on this device are fast chargers, so you won't have to sit around and wait for hours. Or, set your device or cell phone on the wireless charging surface! A quick boost can take you a long way. Clip it to your hip or add a Ready Hour Solar PowerBank Charger to your go-bag. 
Ready Hour Wireless Solar PowerBank & LED Light Specs:
Powerful Battery - 20,000 mAh lithium-ion battery - charge standard cell phones up to four times - the lithium-ion battery has gone through rigorous testing to ensure durability.
Built to Last - Carefully crafted with a premium silicon protective case - a durable build with side grips that make it easy to hold or use the carabiner hook clip - waterproof and shockproof. 
Charge on the Go - Three USB cable outputs, outport: 5V 1A/2.1A; input DC 5V/1A.
Fast Charging, Two Ways - Micro-USB input to charge via electrical outlet + solar panel, charge and discharge more than 800 times; includes a four-stage power-level indicator; recharges devices fast.
Solar Panel & Wireless - Cut the cord! Use the sun and recharge your devices on the wireless pad; compatible with iPhone, Android, Mac, and PC.
LED Bank of Room Lights - Hold on/off button to turn on a bright panel of 28 LED lights with three settings: low, medium, high
Dimensions - Dimensions 2.7" x 0.7" x 5.7" and weighs 1.55 pounds.
What's in the Box - Wireless Solar PowerBank Charging Unit,  micro-USB cord, manual.
Storage: Store in a well-ventilated area between the temperatures of around 30-100 degrees Fahrenheit. Do not expose to temperatures above 140 degrees Fahrenheit. 
The solar panel with this unit is primarily intended to power your LED flashlight. 
A couple hours of intense sunlight equals a couple hours of LED flashlight power. 

Although the PowerBank will charge via solar panel, that is not the primary intent on having the solar panel. The conversion rate for this size of solar panel under optimal, full-sun conditions is 550 mAh per hour. It would take on average about 40 hours to fully recharge the large 20,000 mAh battery once the sun's rays are intense enough to reach the maximum conversion rate.
 On a full battery, the LED flashlight can last up to 72 hours. It's recommended to have this unit standing by, fully charged by an electrical outlet, ready for use during emergencies.   
When you see how compact this is, how wells it cooks, and how easy it is to use, you will want one in your camping gear, RV, and emergency food storage. What are the benefits of the Solo Stove Lite?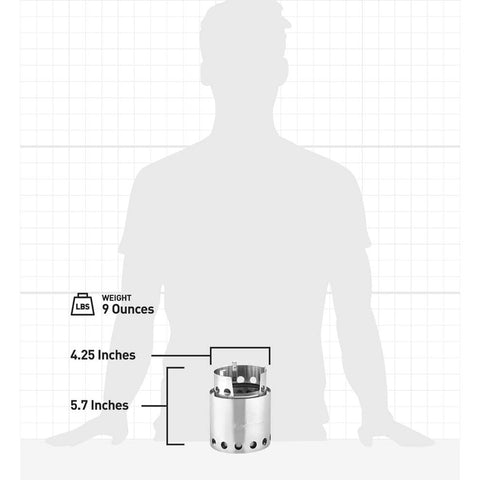 PATENTED DESIGN - LESS SMOKE. It features a unique double wall that creates ultra-clean gasification and a secondary combustion. This allows fuel to burn more completely and with less smoke. That's important! 

FUEL IS FREE. No more spending money on white gas which is hard to transport or expensive liquid canister fuel. The Solo Stove Lite use twigs, leaves, pinecones, and wood as fuel. Free up more space in your backpack and eliminate the need to carry heavy, polluting, and expensive canister fuels that break down over a short period of time.

LIGHTWEIGHT & FAST BOIL TIME. Boils water in 8-10 mins (34 fl oz water). It is 4.25" Diameter, 3.8"/5.7" tall (packed/assembled). The Solo Stove weighs only 9 oz. Made of premium stainless steel and nichrome wire. A nylon stuff sack is included.
---
How it Works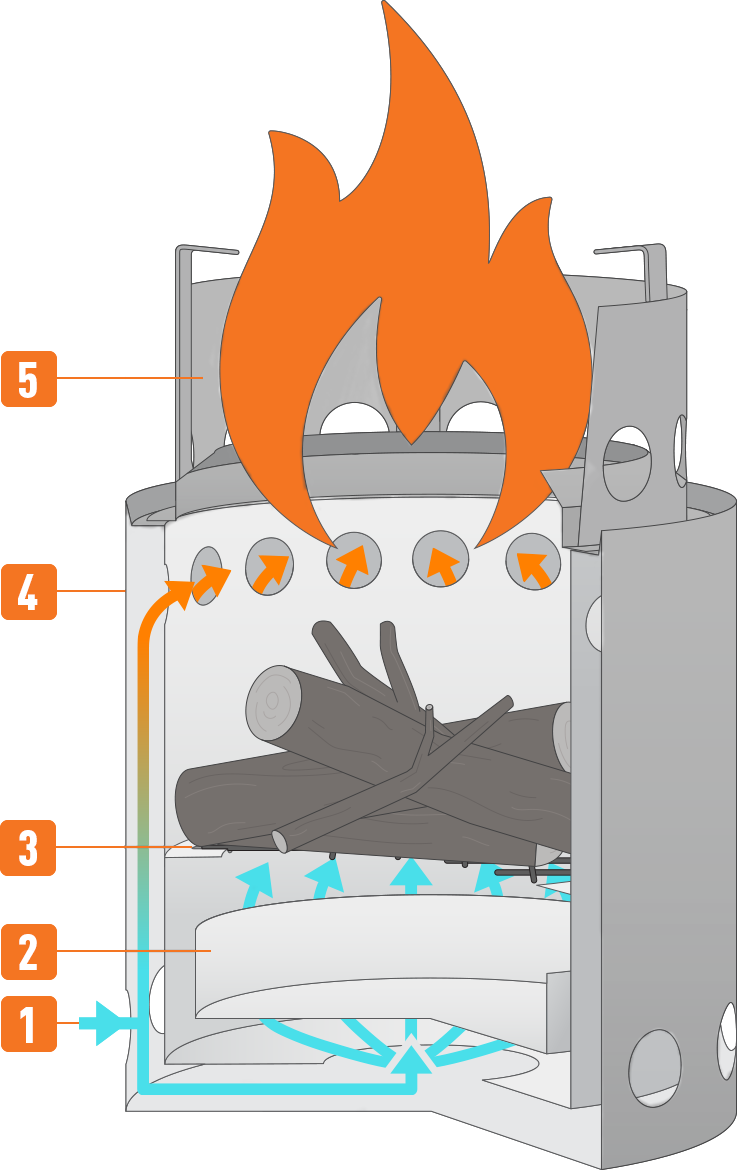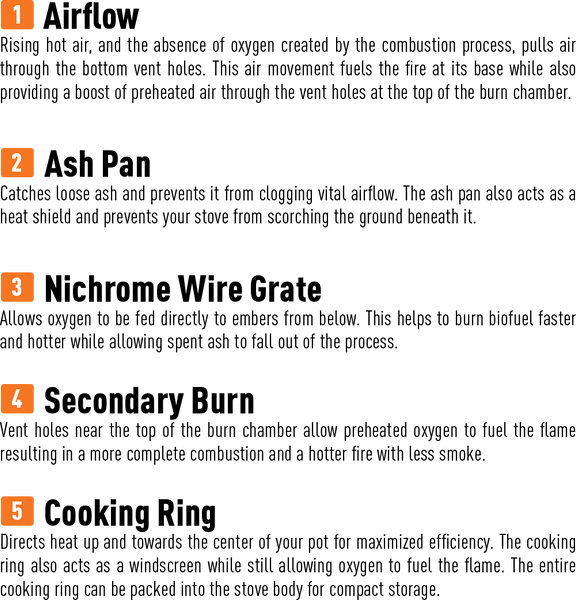 Twigs for Fuel, Hotter Fires, Less Smoke, and Way More Fun!
The Solo Stove Lite is the perfect addition to anyone's bag as a lightweight cooking stove for one to two people. The best part? No fuel to carry! Your food shouldn't depend on carrying or finding a place that sells gas when nature provides the perfect tinder and wood all year. Plus, gas disappears in an instant during an emergency!
Now you can minimize your pack weight and your footprint with this ultra-efficient stove. The Solo Stove Lite operates on small twigs and sticks or an alcohol burner to fuel the fire, while the air intake holes on the bottom pull air in towards the fuel source. While air is being pulled in, the double-wall construction allows air to be heated up and fed through the top vents, providing an extra boost of pre-heated oxygen and creating a secondary combustion. With this patented design, you'll get a hotter fire with less smoke!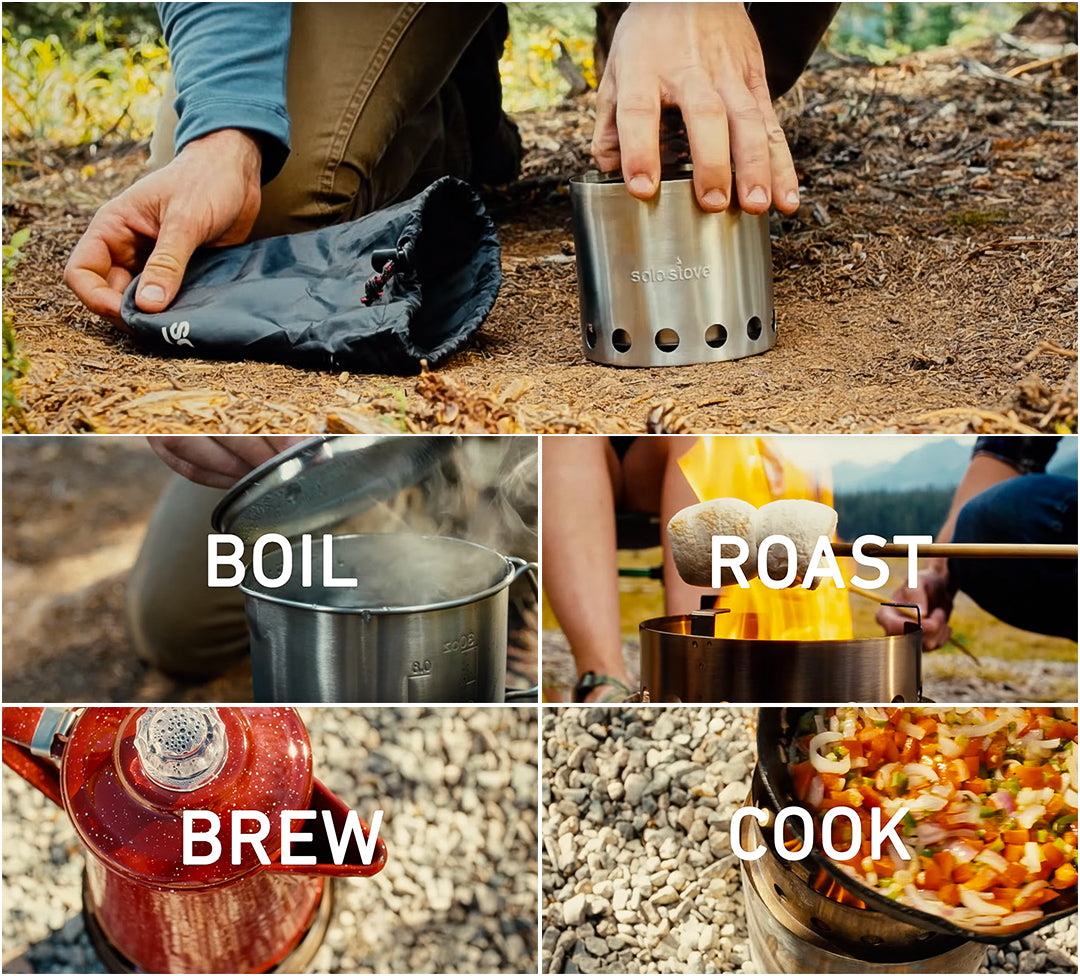 Just because you crave adventure doesn't mean you have to eat with your hands.
Folding Cutlery Tool by Ready Hour
You get a strong carbon stainless steel knife that will cut even the toughest food – plus a detachable fork and spoon so you feel like you're eating at home. There's even a can punch and bottle opener! It's all sandwiched between high-impact steel handles with comfortable rubber grips. You'll appreciate the thoughtful design and quality craftsmanship that went into this handy tool.!
Stainless Steel Mess Cooking Kit (5 Piece) by Ready Hour
The Stainless Steel Mess Cooking Kit by Ready Hour features FIVE easy-to-carry cooking essentials you'll want when worse comes to worst.
NO mismatched sets of pots and pans. NO lost or ill-fitting lids. Each piece of this kit can be seamlessly stacked into the other, creating the ultimate all-in-one storage solution. Save space wherever it's stored, from the trunk of your car to your basement's survival supply.
This mess cooking kit includes:
(1) 34-ounce pot

 

– The perfect pot for boiling water to mix up your emergency meals.
(1) 17-ounce pan

 

– Ideal for making eggs, meat, and more. Plus, it doubles as a lid for the pot.
(1) BPA-free mug

 

– Use for measuring and mixing ingredients.
(1) Scrubber

 

– Just what you need for squeaky-clean cookware.
(1) Nylon mesh bag

 

– Holds the complete kit, making it convenient to carry.
Stainless Steel Drinking Cup
A Crisis Is No Time for Flimsy Tableware

!


This heavy-duty stainless steel 12-ounce mug with rolled edge is the perfect "crisis vessel" for both drinking and eating. Add one to your bug-out bag or emergency kit!
Solid handle

Easy-to-clean

Perfect for cooking a small meal
Withstands the corrosive action of various acids found in fruits, meats, milk, and vegetables, while providing corrosion resistance, flavor safety, and ease in cleaning.
Waterproof Matches by InstaFire
Our wooden Waterproof Matches are designed to light easily and consistently, even when you're battling the elements.
These matches:
Light easily and consistently
Waterproof and individually coated strikers and heads
Compact and portable
Perfect for emergency situations and camping
Each box contains 40 matches (total of

 

160 matches)
Battery Care: As with all battery-run devices, proper upkeep is critical for the prolonged function of your Power Bank. If the unit is left to sit for long periods, the battery can drain and even become inoperable. Make sure to charge the battery every few months to extend its life and performance. 

*For the best results, store replacement water filters at temperatures above freezing (between 40°F and 85°F).
Discreet, Secure Shipping
For your privacy and security, packages are delivered discreetly to your doorstep in unmarked boxes.
30-Day Returns
No questions asked on unopened, unused products.
Price Guarantee
If our online product price drops within 30 days of your purchase, we'll match the lower price, upon request, with an online store credit.
Here Are More Great Reasons to Buy from Us
We're Independent.
Around here, you won't find any slick bankrollers or financiers behind the curtain. We're 100% family owned and owe nothing to anyone but you!
This frees us up to do things the right way: craft our own recipes, cook our own food, fill our own food pouches, and ship our own orders. We own three large, fully stocked warehouses spanning over 500,000 square feet which ensures the quality packaging of your order.
Others cut corners and outsource their shipping to third parties and that's just not right. It's also why our quality and savings are better than the rest—and we pass those right along to you with fair pricing.
Free Disaster Replacement Warranty
We are proud to offer the survival industry's very first free disaster replacement warranty. If your My Patriot Supply purchases are destroyed in a natural disaster, our warranty replaces them all, and no cost to you.
Click here to sign up for My Patriot Supply's Disaster Replacement Warranty.
Record-Fast Shipping Speeds
Customers call our shipping "impressive," "flawless," and "man-that-came-fast" excellent.
Double Protection, No Cutting Corners
We take the extra steps that others don't to protect your food with double-sized oxygen absorbers and ultra-thick, four-layer pouches that we test again and again to ensure quality.
5-Star Customer Service (Literally)
We've served several million American families over the past decade. Our customers have spoken, giving us 4.8 out of 5 stars based on tens of thousands of reviews.
2,000+ Calories/Day in our Food Kits
Our food kits provide 2,000+ quality calories per day with the nutrition you need (you'd be shocked at how many competitors skimp and don't do this!).
We're Serious about Your Privacy
Ordering is 100% secure and we never sell your information. Our packages ship discreetly to your doorstep in a plain brown box with no branding.
Mac & Cheese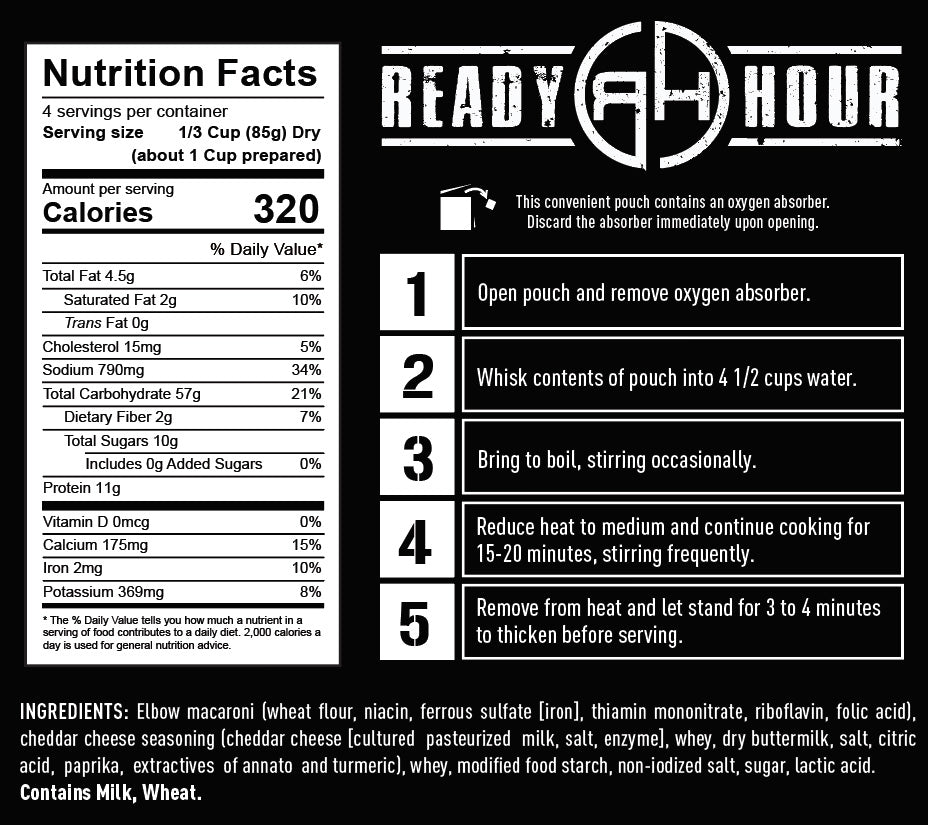 Creamy Stroganoff
Homestyle Potato Soup
Cheesy Broccoli Soup
Chili Mac
Creamy Alfredo Pasta
Southwest Rice
Creamy Chicken Flavored Rice
Long Grain White Rice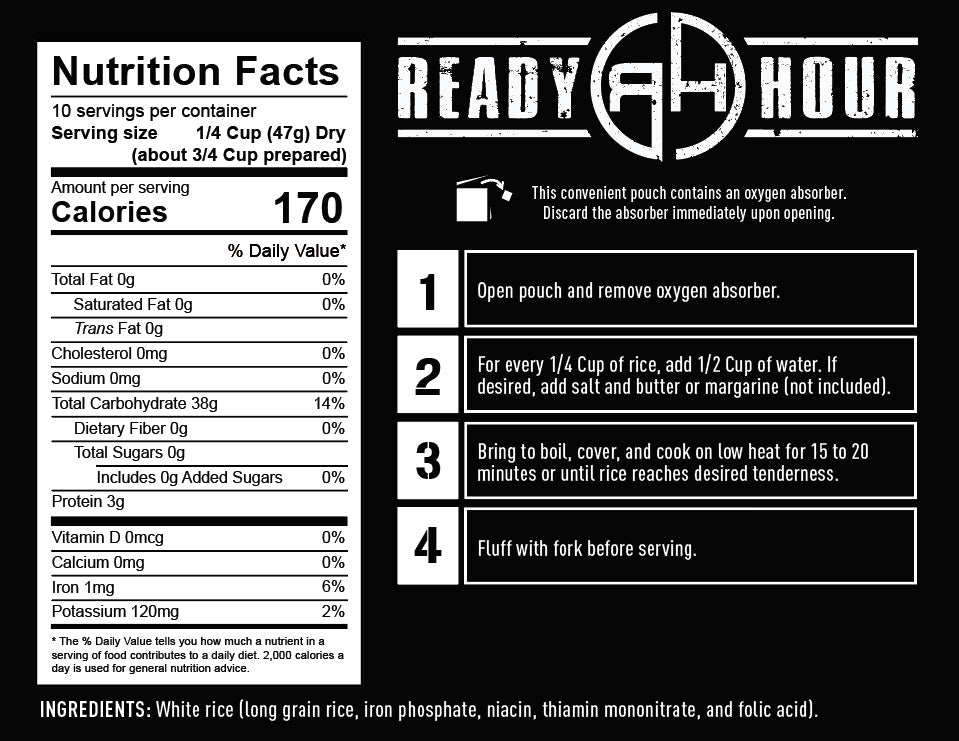 Mushroom Rice Pilaf
Buttermilk Pancakes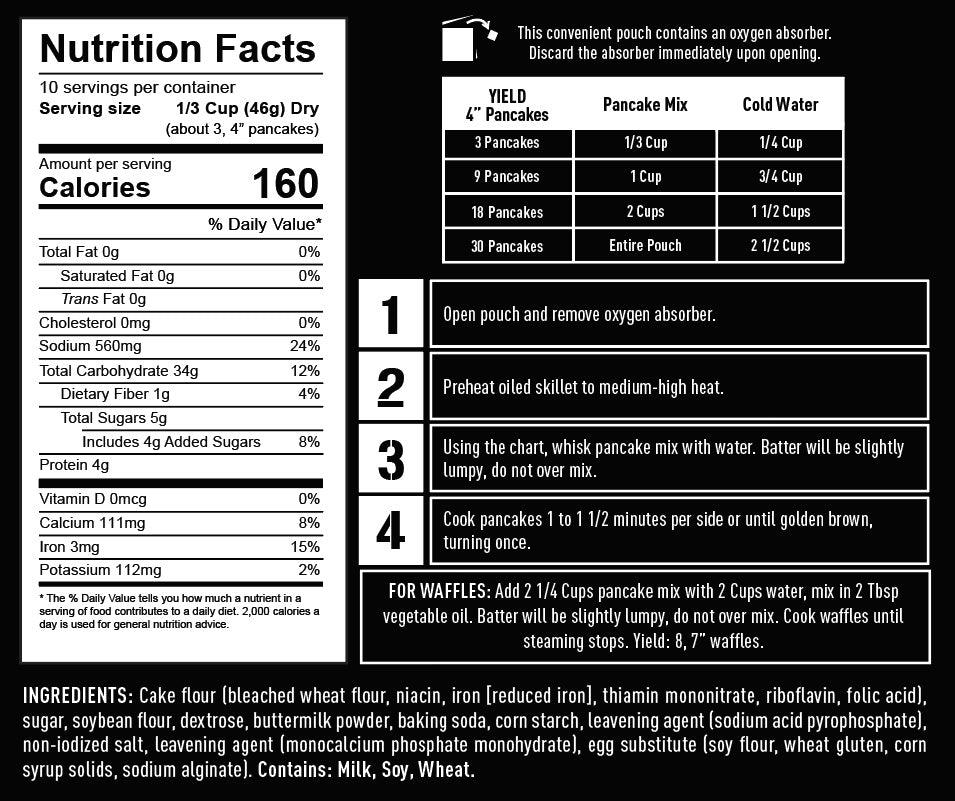 Maple Grove Oatmeal
Strawberry Flavored Creamy Wheat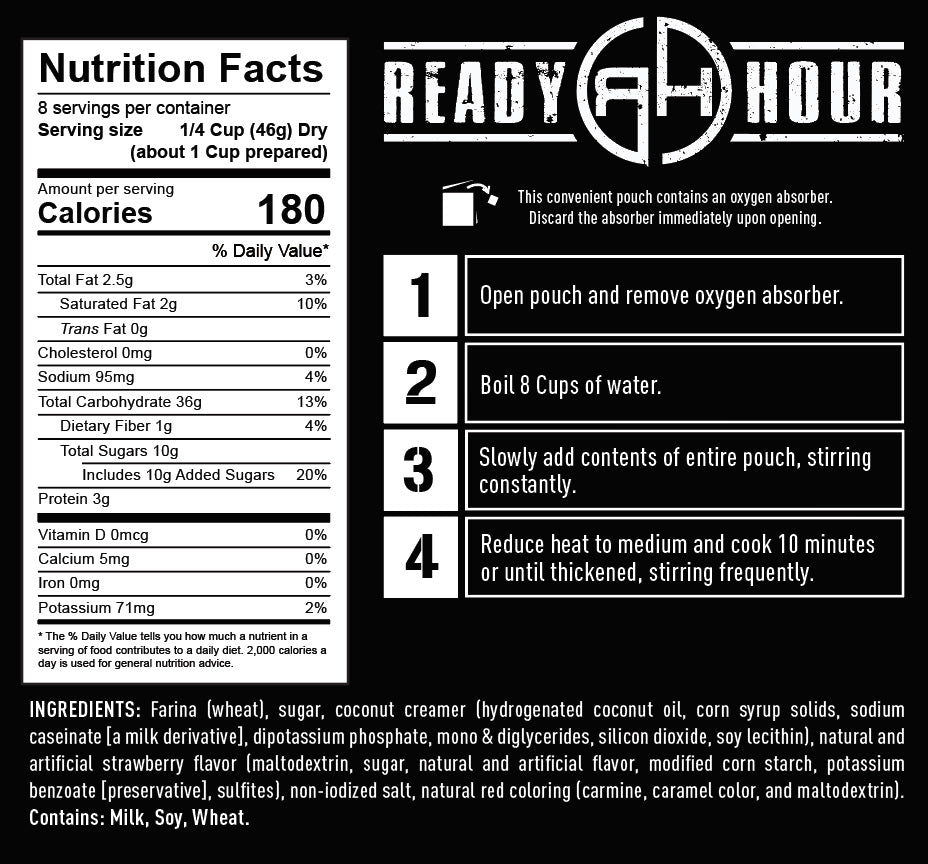 Orange Energy Drink Mix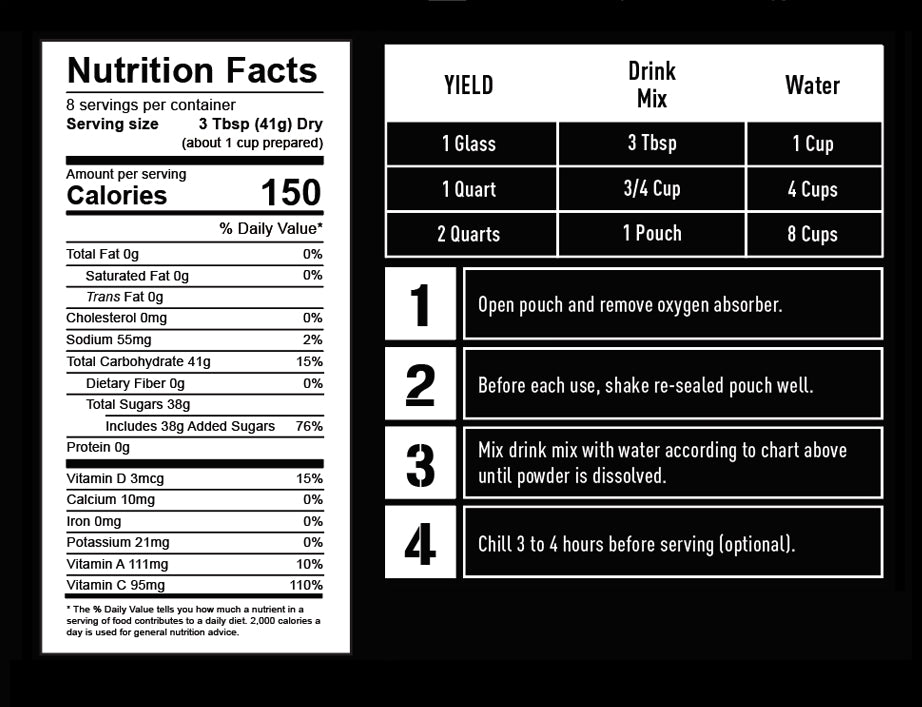 Chocolate Pudding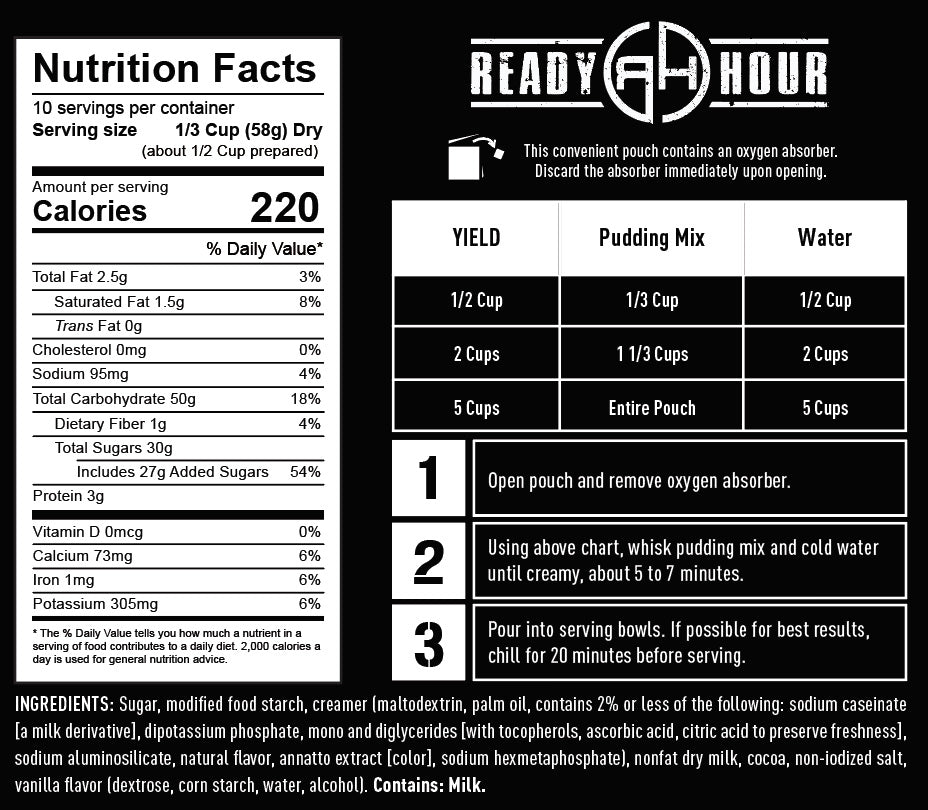 Banana Chips