Limited units available...
FULLY STOCKED SURVIVAL FOR 3 MONTHS STRAIGHT
Disaster doesn't wait. When you start to see the signs of complete chaos, you'd better be prepared before the world unravels with a wrath.
With our Complete 3-Month Emergency Kit, you'll have an assortment of survival essentials to carry you through crisis:
3-Month Emergency Food Supply by Ready Hour

Alexapure Pro Water Filtration System

Medic First Aid Kit by My Medic (LARGE 450+ pieces)

Wireless Solar PowerBank Charger & 28 LED Room Light by Ready Hour
3-MONTH EMERGENCY FOOD SUPPLY
2,000+ CALORIES A DAY FOR SURVIVAL

This Ready Hour 3-Month Emergency Food Supply gives you 21 food varieties in thick, ultra-durable packaging for long-term emergencies. It will feed 1 person for 90 days when eating 2,000 calories per day.*
NO SKIMPING ON YOUR SURVIVAL – Meals provide 2,000+ calories per day on average for 180,040 total
DECADES-LONG SHELF LIFE – Meals can be stored for up to 25 years**
NO FOOD BOREDOM – 20+ flavorful food and drink varieties
HIGH-QUALITY PACKAGING – Meals packaged in resealable, heavy-duty 4-layer pouches with multiple oxygen absorbers
DISASTER-DURABLE BUCKETS – Pouches sealed in 6 rugged, water-resistant buckets built for long-term storage (weighing 121 pounds)
EASY TO STACK AND STORE – Stack the 9.75" x 11.75" x 15.75" buckets to save space
HOMEGROWN – Made in the USA without MSG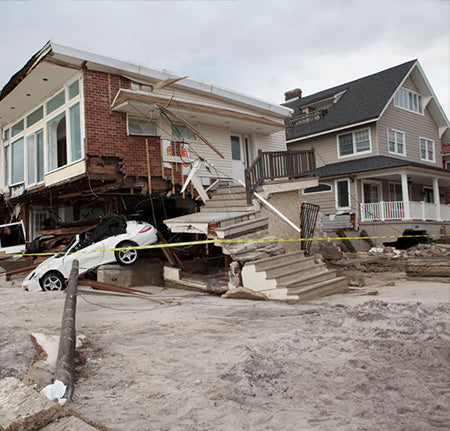 Damage to supply chains and infrastructure can leave you without
 reliable access to food for months.
CALORIES = ENERGY = SURVIVAL
Our 3-Month Emergency Food Supply provides a single person with an average of over 2,000 calories per day for 90 days.
Remember, calories are crucial to survival! Other companies skimp on calories, which isn't just wrong—it's reckless. You won't be satisfied with 1,500 calories, and 1,300 calories will leave you starving. Don't settle for less than what your body needs, especially in an emergency.
As the original Patriot company, we take preparedness seriously. Our meal quality, calorie count, and price per calorie prove it—see for yourself!
IDEAL FOR EMERGENCIES
When each person in your household has a 3-Month Emergency Food Supply, you'll be prepared for: 
Extended power loss, power rations, or cyber attacks

Natural disasters

Job loss or economic collapse

Hyperinflation

Breaks in the supply chain

Outbreaks and mandated quarantines
MAKING A FOOD STORAGE PLAN
Where do you start? Preparedness advisers recommend having at least three months' worth of food for every person in your emergency preparedness plan—which often extends beyond a single household to include adult children, grandchildren, friends, and neighbors.
Building a food supply for your home, cabin, shelter, or bunker is a journey. Little by little, your stockpile will grow to meet your preparedness goals. Our 3-Month Emergency Food Supply will help you get there!
LOOK AT ALL THE FOOD YOU GET!
This 3-Month Food Supply Contains:
GOOD-AS-HOMEMADE ENTRÉES
QUICK & EASY SIDES
HOT & HEARTY BREAKFASTS
DELICIOUS SNACKS, DESSERTS & DRINKS
MAKING THE MEALS
This emergency food supply is packed with 21 different food and drink varieties—all delicious, high in calories, and nutrient rich.
To make each of these meals and drinks, all you'll need is water. To prepare the entire supply, set aside 39.06 gallons of water in your emergency water supply.
WHY YOU NEED THIS SUPPLY
You don't need to live in the heart of a hurricane zone or along an active fault line to be serious about emergency preparedness. If we've learned anything from both historical and recent events, crises come in all shapes and sizes—and they can come at any time, even overnight.
Whether you're experiencing the effects of long-term illness, an accident, or job loss—or widespread threats like terrorist attacks, economic collapse, or an outbreak of disease—you can tackle what's next in confidence with our survival food in stock.
No matter what your emergency may look like, you won't have to worry about where you'll be getting your next meal. And as far as your survival is concerned, there's nothing more important than that.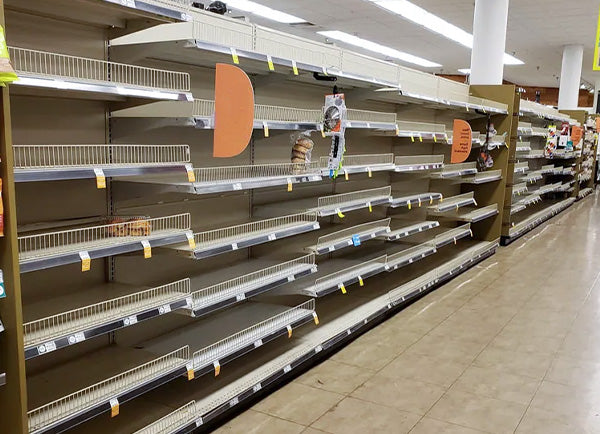 The typical grocery store carries less than 72 hours' worth of food on its shelves—with minimal back stock.
Fearlessly face inflation, empty shelves, supply-chain breakdowns, natural disasters, and other emergencies with our impressive selection of delicious survival food.
EXCEEDS INDUSTRY STANDARDS
All Ready Hour foods and packaging undergo regular, rigorous testing to ensure they exceed industry standards for safety, quality, and shelf life.
Ready Hour also conducts regular analytical, microbial, and oxygen level inspections, as well as sensory testing of raw materials and finished goods in a food-testing lab.


It's Not Just Food. It's Freedom.
*Some individuals may want or need more than 2,000 calories per day, such as children, the elderly, and pregnant and lactating women.

**It's best to store this emergency food supply in a dry, cool location—a dark area, if possible—at temperatures between 55°F and 70°F. Actual shelf life may vary based on individual storage conditions. Unopened product pouches included in this supply retain their shelf life after buckets have been opened.

Note: Based on inventory levels and supply shortages, My Patriot Supply may substitute a food or drink product or bucket with similar items of equal or greater value to expedite delivery.


ALEXAPURE PRO® WATER FILTRATION SYSTEM

Safer, Cleaner & Powered by Gravity
The Alexapure Pro transforms water from virtually any fresh source into cleaner, safer drinking water.
Reduces up to 99.9999% of 206 contaminants, targeting: 
Heavy metals 

Lead

Fluoride

Chlorine

Viruses & bacteria

Pesticides & pharmaceuticals
Clean drinking water. You can survive without it for about 3 days. How do you know yours is pure?
This is the ultimate water filtration solution. Alexapure Pro is a groundbreaking, gravity-fed water filtration system that outperforms others for less. Alexapure products are the only brand of water filters we carry because we know you expect the very best. No more trusting city tap water. Use an Alexapure Pro to supply purified drinking water for your family. We do for ours.
The Details
Filter capacity of up to 5,000 gallons*

Uses as many as 4 filters at once

Stainless steel construction

Pre-primed filters 

Easy assembly, low maintenance

Gravity powered, no electricity needed

Extended filter life with daily use

Replacement filters are simple to install

Spigot provides instant access to pure water

Raw water capacity: 8.5 liters (2.25 gallons)

Fresh water capacity: 8.5 liters (2.25 gallons)

Stored height 14"

Top chamber 10"

Lower chamber 10 1/8"

Assembled 21 1/2" to top of handle

Top opening 8 1/4", largest diameter 8 7/8"
Did You Know?
The Alexapure Pro Filter removes 200+ contaminants from water, while preserving essential trace minerals.
The filter is certified to NSF/ANSI Standards through Envirotek Laboratories and uses NSF/FDA approved materials.
Click the button below to see the independent lab results!
Test Results
What's in the Box
(1) Alexapure® gravity block filter w/ hybrid ceramic shell, pre-primed
Installation hardware:
(1) Non-slip black rubber base ring

(1) Stainless steel upper chamber

(1) Stainless steel lower chamber

(1) Stainless steel lid

(1) Spigot assembly

(1) Knob assembly

(3) Food grade nitrile/silicone rubber plugs

Instructions for assembly and use
30-Day No Questions Asked Guarantee
We stand behind the Alexapure Pro Water Filtration System:
We extend a 30-day, no questions asked return policy on unopened products. After 30 days, or for products already opened, we will review your return request on a case-by-case basis. 
*Performance of filters may vary due to source water conditions, water turbidity, and seasonal water fluctuations. Keep the filter moist and from drying out at all times for maximum filtration capacity. 
For the best results, store replacement filters at temperatures above 35°F.
Is your tap or well water dangerous to drink? Let us help you find out.
Recent testing has identified 267 contaminants in U.S. drinking water:
93 linked to an increased risk of cancer

78 associated with brain and nervous system damage

63 connected to developmental harm to children or fetuses

38 that may cause fertility problems

45 linked to hormonal disruption
MEDIC FIRST AID KIT BY MY MEDIC
Be Your Own First Responder!
It's like having a HOSPITAL on your back!
Listen: Not all First Aid Kits are created equal.
First-responders don't mess around with anything less than the best.
They designed the THE MEDIC First Aid Kit to make sure you will have what you need when you need it.
This is life-or-death stuff. Not pretend.
When a traumatic injury occurs, seconds count. You need more than just a box of little band-aids and gauze. You'll need what first-responders depend on every day.
And that's exactly what we put into our My Medic First Aid Kits.
GO BIG OR GO HOME! Each kit is jam-packed with over 450 medical-grade trauma supplies hand-picked by medical pros. 
You'll definitely have trauma emergencies under control once you get one of these well-stocked kits.
Why not get yours today?
Irrigate Traumatic Wounds – Super Wash for irrigating wounds and preventing infection

Treat Dangerous Symptoms – A wider variety of critical OTC meds for treating everything from stomach trouble to nausea

Access a Wound Immediately–Clothing shears just like EMTs use

Durable materials made to rugged military standards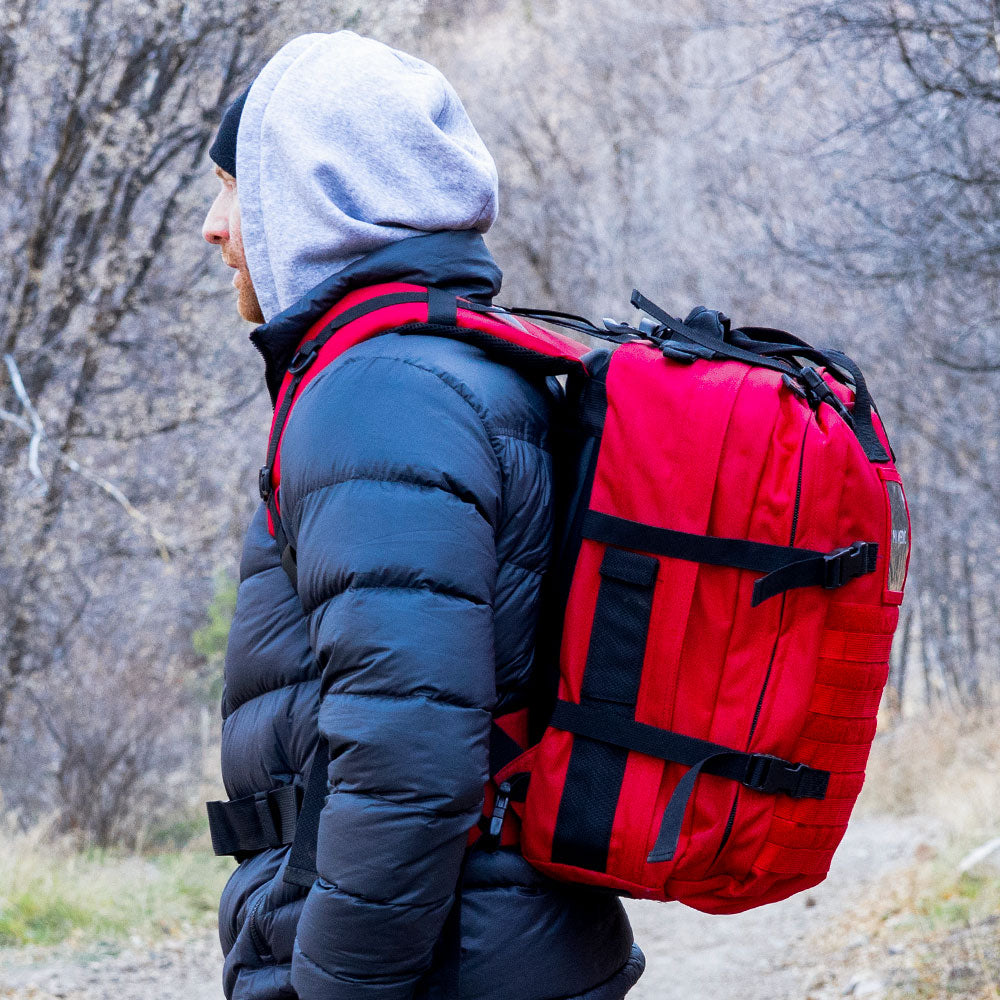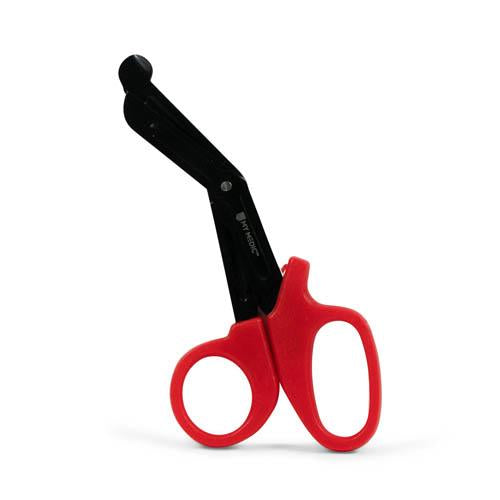 SMALL EMT SHEARS
Cut your way out of most anything.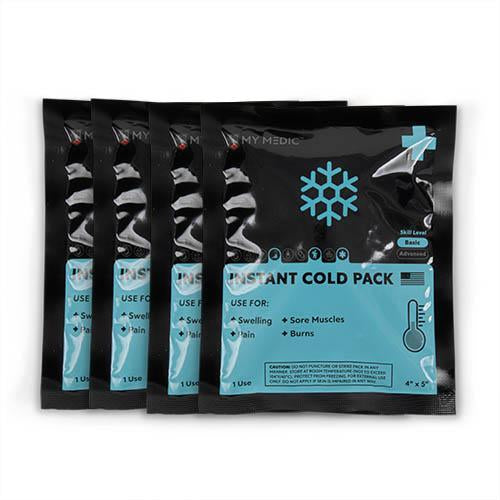 4 SMALL COLD PACKS
Rapidly activated, disposable chemical ice pack used to relieve pain and reduce swelling.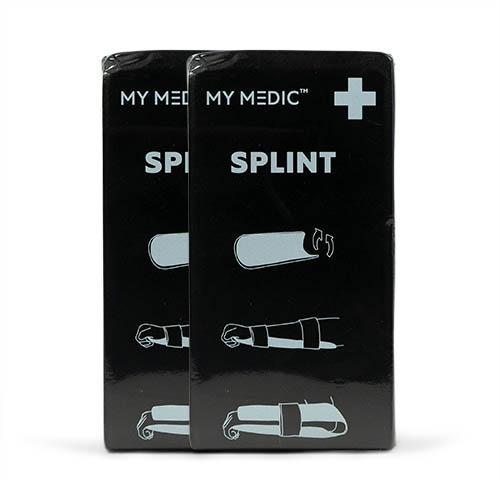 2 FLAT SPLINTS
Splint used to support a broken bone.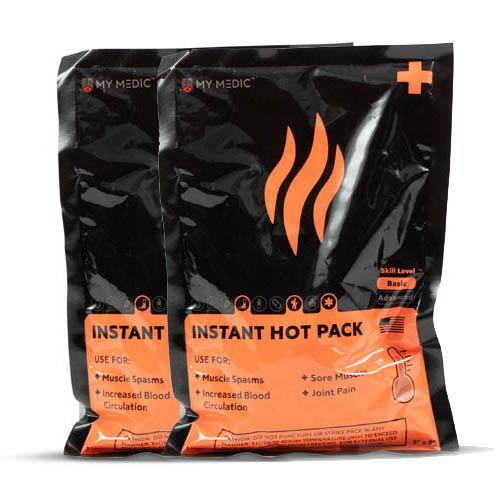 2 LARGE HOT PACKS
Rapidly activated, disposable chemical hot pack used to relieve pain and reduce swelling.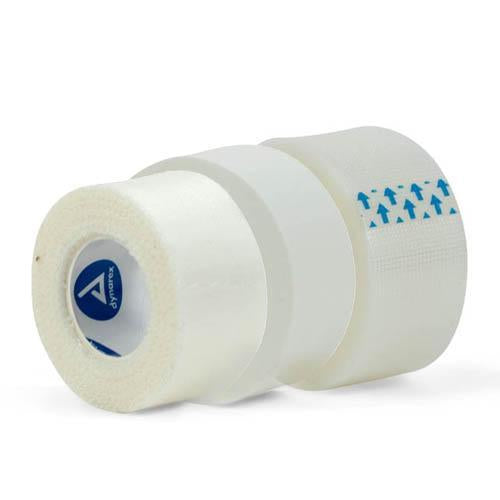 TAPE ASSORTED PACK
(1) Cloth Surgical Tape 1"x30', (1) Clear Surgical Tape 1"x30', (1) Waterproof Surgical Tape 1"x30'
LARGE EMT SHEARS
Scissors used to quickly and safely cut clothing from injured people. 7.5".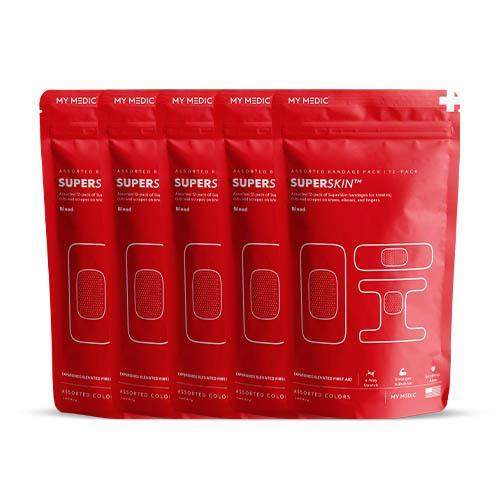 5 SUPERSKIN BANDAGE ASSORTED PACKS
Each Assorted Pack Contains: (6) 1x3 SuperSkin Bandages, (3) 2x4 SuperSkin Bandages, (3) Fingertip SuperSkin Bandages
4 GAUZE MODS
Each MOD Contains: (2) 3x4 Non-Adherent Pad, (3) 2x2 Non-Adherent Pad, (2) 2x2 Gauze Pad, (2) 4x4 Gauze Pad, (1) 2 Gauze Roll, (1) 3 Gauze Roll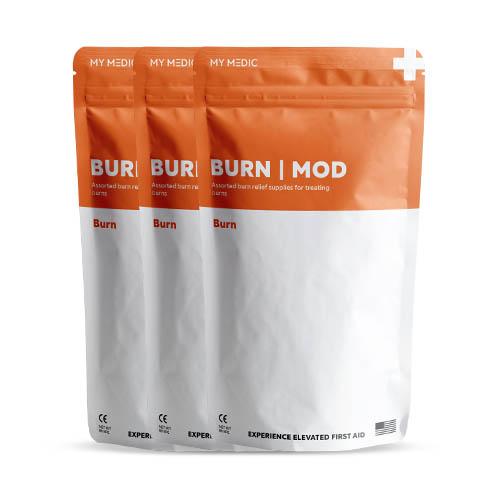 3 BURN MODS
Each MOD Contains: (4) Burn Gel Packets, (1) 4x4 Burnshield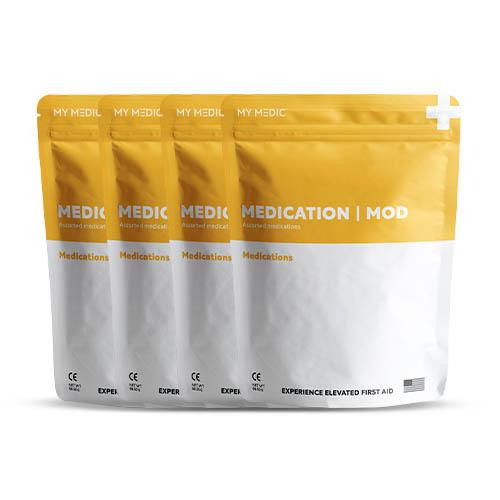 4 MEDICATION MODS
Each MOD Contains: (4) Ibuprofen, (2) APAP, (2) Aspirin, (2) Diotame, (2) Dramamine, (2) Diphen, (2) Diamode, (2) Decorel Forte
4 CLEAN & PREP MODS
Each MOD Contains: (4) Antiseptic Wipes, (4) Hand Sanitizer, Iodine Prep Pad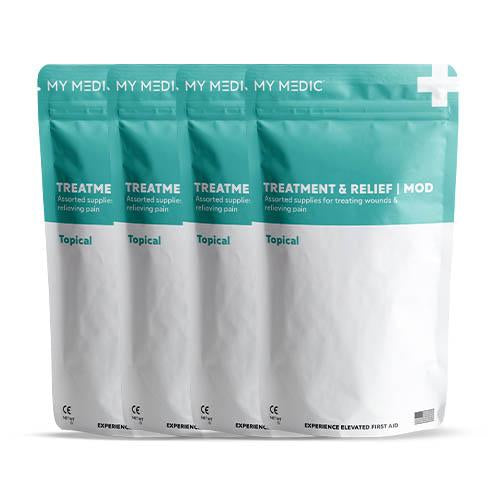 4 TREATMENT & RELIEF MODS
Each MOD Contains: (3) Triple Antibiotic Ointment Packets, (2) Lip Balm Packets, (2) Sunscreen Packets, (2) Sting Relief Wipes, (1) White Petrolatum Packets, (2) Hydrocortisone Packets, (2) Oral Pain Relief Packets, (1) Ammonia Towelette, (1) Friction Frosting (Chamois Butter)
4 BLISTER MODS
Each MOD Contains: 3 Pieces of SuperSkin Blister Tape
5 HYDRATION MODS
Each MOD Contains: (2) KoKos Hydration Packets, (2) Water Purification Tablets
4 SPRAIN & FRACTURE MODS
Each MOD Contains: (1) Finger Splint, (1) 2" x 15' Sensi Wrap, (1) Triangular Bandage, (1) 2" x 15' Elastic Bandage
3 MINI WOUND CLOSURE MODS
Each MOD Contains: (1) Pack of 3 Secure Strips, (1) Tube of Liquid Skin
2 TOOL MODS
(1) Penlight, (1) Tweezer, (1) Thermometer, (5) Thermometer Sheaths, (1) Whistle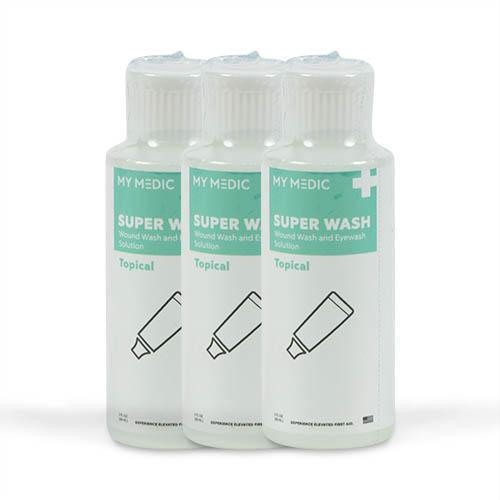 3 SALINE WASHES
Saline wash for irrigating wounds or eyes.
3 CPR SHIELDS
Creates barrier to prevent transmission of disease when performing CPR.
3 LARGE GAUZE MODS
Each MOD Contains: (1) Multi-Trauma Dressing, (2) Combine Pad
MASK MOD
Each MOD Contains: (5) 3-Ply Mask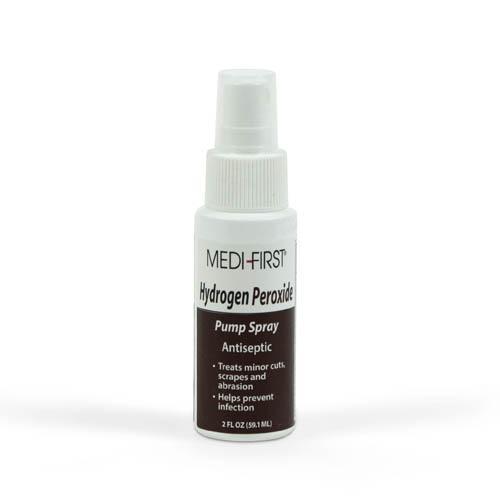 1 HYDROGEN PEROXIDE SPRAY
Pump spray to treat minor cuts and scrapes and prevent infection.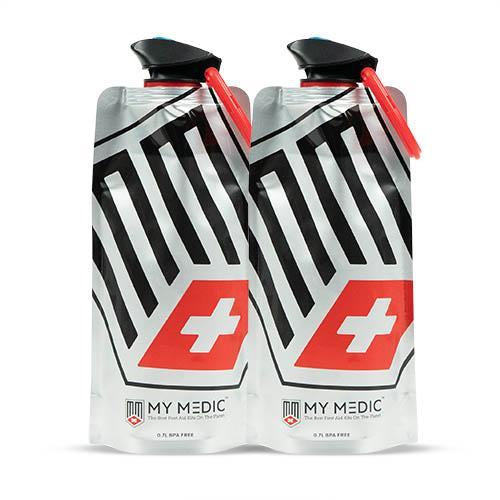 2 WATER BOTTLES
Container used to hold liquid.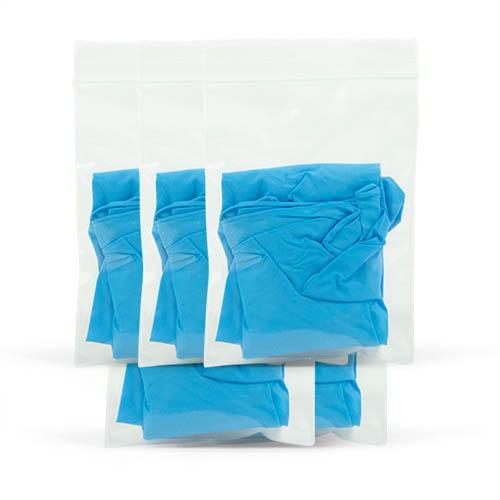 5 PAIRS OF GLOVES
(5) disposable pairs of gloves
Sturdy and Easy-Carry Pack
All neatly loaded in a CORDURA nylon pack with Velcro MOLLE straps, an over-sized zipper, and a TWO extra mini-first aid kits.
Specs

Over 450 quality first aid and trauma supplies

Dimensions: 21 "H 13" W 13" D

Weight: 17 – 20 lbs


HSA/FSA approved

Built in the USA
Hospital Quality for Your Safety
Cheap medical supplies that fall apart can put your safety at risk. The Medic Kit packs high-grade supplies, like the ones doctors use in hospitals.
Find Everything You Need, Fast
Seconds count in a medical emergency. Your Medic Kit is:
Your Medical Toolbox – With two spacious compartments and many pouches and elastic loops, there's enough space here to hold years' worth of supplies. It's the perfect family kit! 
Instant Access – Supplies organized in color-coded, common-sense groupings so you can identify and grab them in an instant
Extra Bags - With TWO extra mini first aid bags inside, you can divvy these supplies between members of your household or distribute them in separate locations. Store some in your car, RV, cabin, office, and more.


DON'T DELAY—PREPARE TODAY!

When an emergency is on the way, My Patriot Supply receives a rush of orders that slows our ability to ship as quickly as usual from our warehouses across the country.
Don't wait for disaster to strike. Order before the storm to be queued up for lightning-fast delivery!
Discreet, Secure Shipping
For your privacy and security, packages are delivered discreetly to your doorstep in unmarked boxes.
30-Day Returns
No questions asked on unopened, unused products.
Price Guarantee
If our online product price drops within 30 days of your purchase, we'll match the lower price, upon request, with an online store credit.
Here Are More Great Reasons to Buy from Us
We're Independent.
Around here, you won't find any slick bankrollers or financiers behind the curtain. We're 100% family owned and owe nothing to anyone but you!
This frees us up to do things the right way: craft our own recipes, cook our own food, fill our own food pouches, and ship our own orders. We own three large, fully stocked warehouses spanning over 500,000 square feet which ensures the quality packaging of your order.
Others cut corners and outsource their shipping to third parties and that's just not right. It's also why our quality and savings are better than the rest—and we pass those right along to you with fair pricing.
Free Disaster Replacement Warranty
We are proud to offer the survival industry's very first free disaster replacement warranty. If your My Patriot Supply purchases are destroyed in a natural disaster, our warranty replaces them all, and no cost to you.
Click here to sign up for My Patriot Supply's Disaster Replacement Warranty.
Record-Fast Shipping Speeds
Customers call our shipping "impressive," "flawless," and "man-that-came-fast" excellent.
Double Protection, No Cutting Corners
We take the extra steps that others don't to protect your food with double-sized oxygen absorbers and ultra-thick, four-layer pouches that we test again and again to ensure quality.
5-Star Customer Service (Literally)
We've served several million American families over the past decade. Our customers have spoken, giving us 4.8 out of 5 stars based on tens of thousands of reviews.
2,000+ Calories/Day in our Food Kits
Our food kits provide 2,000+ quality calories per day with the nutrition you need (you'd be shocked at how many competitors skimp and don't do this!).
We're Serious about Your Privacy
Ordering is 100% secure and we never sell your information. Our packages ship discreetly to your doorstep in a plain brown box with no branding.