The Alexapure Pitcher is a revolutionary filtration system that surpasses common water pitcher filters for your home and everyday use. Start drinking cleaner tasting, filtered water from your tap today.

Made in the USA. the Alexapure Pitcher® reduces harmful contaminants commonly found in drinking water including:
Lead
Chromium-6
Chlorine*
Polychlorinated biphenyls (PCBs)
Trihalomethanes (THMs)
Arsenic
Aluminum
Asbestos
Cadmium
Copper
Mercury
Pesticides
Pharmaceuticals
Nitrites
Herbicides
Fungicides
Silt
Volatile Organic Compounds (VOCs)
Sediment
More Powerful
Common pitcher and fridge filters only reduce bad taste, odors, and chlorine. The revolutionary Alexapure Pitcher filters reduce much more, including potential health-damaging contaminants.
Lasts Longer
The two filters included with your Alexapure Pitcher will provide speedy and optimum filtration up to 100 gallons or 90 days - up to 2 times longer than common pitcher filters
Flows Faster
The double filters filter water in half the time! It only takes 8 minutes to fill the 10-cup pitcher. Other filters can take up to twice as long.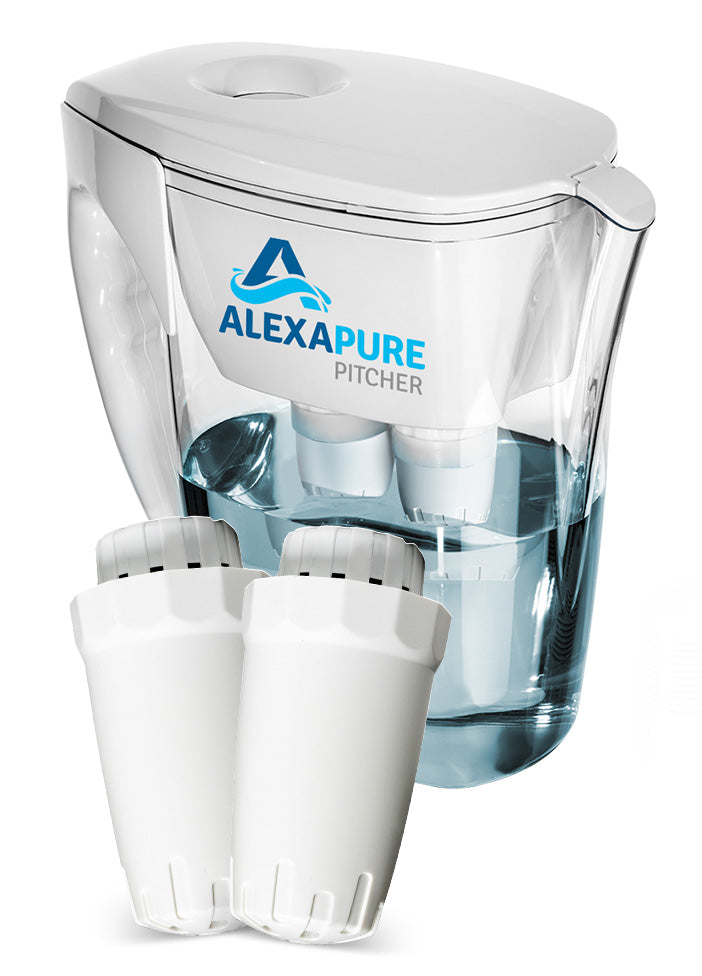 Key Pitcher Features:
Optimum filtration up to 100 gallons
Holds up to 10 cups of water (25% more) 
Dimensions are 10.5 X 5 X 10.5 inches
Pitcher and filters are made from

BPA-free FDA food-grade materials
Fast flow rate: 5gal/hr
Retains beneficial trace minerals
Is your tap or well water dangerous to drink? Let us help you find out.
Recent testing has identified 267 contaminants in U.S. drinking water:
93 linked to an increased risk of cancer
78 associated with brain and nervous system damage
63 connected to developmental harm to children or fetuses
38 that may cause fertility problems
45 linked to hormonal disruption
For other Alexapure water filtration solutions, check out these helpful links:
This pitcher is not meant to filter salt water.
*Chlorine reduction claims are not performance tested by IAPMO or NSF International or Envirotek Laboratories, beyond 200 gallons. Additional performance claims are based on independent laboratory and manufacturer's internal test data. Actual performance is dependent on influent water quality, flow rates, system design and application. Results may vary. Keep the filter moist and from drying out at all times for maximum filtration capacity.
For the best results, store replacement filters at temperatures above 35°F. This system has been tested for the reduction of the substances listed in the provided product test data sheets. The concentration of the indicated substances in water entering the system was reduced to a concentration less than equal to the permissible limit for water leaving the system, as specified in NSF/ANSI 53. Minimum substance reductions are listed on the provided test data sheets for testing up to 200 gallons.
System and installation to comply with state and local laws and regulations. Do not use with water that is microbiologically unsafe or unknown quality without adequate testing and/or disinfection before or after the system. Systems certified for cyst reduction may be used on disinfected waters that may contain filterable cysts. Manufactured from NSF/ANSI standard 61 and California Prop 65 Compliant certified coconut shell carbon and raw materials.
PERFORMANCE:  Performance claims are based on independent lab results and manufacturer's internal test data*. Actual performance is dependent on influent water quality, flow rates, system design and applications. Your results may vary. Performance claims are based on a complete system, including a filter, housing, and connection to a pressurized water source. This filter must be operated according to the system's specifications in order to deliver the claimed performance. It is essential to follow operational, maintenance, and filter replacement requirements as directed for each application for this filter and system to perform correctly. Read the Manufacturer's Performance Data Sheet accompanying the system and change the filter as suggested. The contaminants or other substances removed or reduced by this water filter are not necessarily in all users' water.
WARRANTY:  LIMITED LIABILITY: ALEXAPURE LLC makes no warranties of any kind, expressed or implied, statutory or otherwise, and expressly disclaims all warranties of every kind, concerning the product, including, without limitation, warranties of merchantability and fitness for a particular purpose, except that this product should be capable of performing as described in this product's data sheet. ALEXAPURE LLC's obligation shall be limited solely to the refund of the purchase price or replacement of the product proven defective, in ALEXAPURE LLC's sole discretion. Determination of suitability of this product for uses and applications contemplated by Buyer shall be the sole responsibility of Buyer. Use of this product constitutes Buyer's acceptance of this Limited Liability.
Discreet, Secure Shipping
For your privacy and security, packages are delivered discreetly to your doorstep in unmarked boxes.
30-Day Returns
No questions asked on unopened, unused products.
Price Guarantee
If our online product price drops within 30 days of your purchase, we'll match the lower price, upon request, with an online store credit.
Here Are More Great Reasons to Buy from Us
We're Independent.
Around here, you won't find any slick bankrollers or financiers behind the curtain. We're 100% family owned and owe nothing to anyone but you!
This frees us up to do things the right way: craft our own recipes, cook our own food, fill our own food pouches, and ship our own orders. We own three large, fully stocked warehouses spanning over 500,000 square feet which ensures the quality packaging of your order.
Others cut corners and outsource their shipping to third parties and that's just not right. It's also why our quality and savings are better than the rest—and we pass those right along to you with fair pricing.
Free Disaster Replacement Warranty
We are proud to offer the survival industry's very first free disaster replacement warranty. If your My Patriot Supply purchases are destroyed in a natural disaster, our warranty replaces them all, and no cost to you.
Click here to sign up for My Patriot Supply's Disaster Replacement Warranty.
Record-Fast Shipping Speeds
Customers call our shipping "impressive," "flawless," and "man-that-came-fast" excellent.
Double Protection, No Cutting Corners
We take the extra steps that others don't to protect your food with double-sized oxygen absorbers and ultra-thick, four-layer pouches that we test again and again to ensure quality.
5-Star Customer Service (Literally)
We've served several million American families over the past decade. Our customers have spoken, giving us 4.8 out of 5 stars based on tens of thousands of reviews.
2,000+ Calories/Day in our Food Kits
Our food kits provide 2,000+ quality calories per day with the nutrition you need (you'd be shocked at how many competitors skimp and don't do this!).
We're Serious about Your Privacy
Ordering is 100% secure and we never sell your information. Our packages ship discreetly to your doorstep in a plain brown box with no branding.