Being able to cook food

QUICKLY

and

EASILY

is critical in a crisis.
In a crisis, you can't depend on electricity or modern appliances in your home. In fact, you may need to "bug out." Having a compact and portable cooking solution that tucks into your bug-out bag is essential for survival. 
That's why we put together the Ultimate Cooking, Light & Emergency Power Kit. This all-in-one cooking kit has everything you need to boil water and cook a meal during a disaster or an outdoor adventure.

The Ultimate Cooking, Light & Power Kit includes:
Inferno Outdoor Biomass Stove by InstaFire — This beautifully designed stainless-steel stove combines science, safety, and efficiency. The legs are coated with anodized titanium which protects its steel-slate design.
Fire Starter 2-Gallon Bucket by InstaFire — Can start a fire and keep it going in the most difficult conditions: rain, snow, and even 30-mph winds!
Folding Cutlery Tool by Ready Hour — Featuring a high-carbon steel blade, fork, spoon, can punch, and bottle opener, it's a great item to store with your emergency food. 
Stainless Steel Drinking Cup — Heavy-duty but lightweight. Perfect for holding a small meal or drink. Easy to clean!
Stainless Steel Mess Cooking Kit by Ready Hour (5-Piece) — Includes a stainless steel pot and pan, BPA-free mug, scrubber, and nylon mesh bag for packing and carrying.
Waterproof Matches by InstaFire (4-Pack) — Wooden waterproof matches are designed to light easily and consistently, even when you're battling the elements.
Wireless Solar PowerBank Charger & 28 LED Room Light by Ready Hour — Charge critical items thousands of times from the power of the sun with this wireless solar charger. Also includes a powerful LED light so you don't have to carry around a bulky flashlight!
Quick and reliable—boils water in three minutes!
The Ultimate Superheated Survival Stove
The Inferno Biomass Outdoor Stove from InstaFireTM, with its unique Vortex TechnologyTM, takes outdoor cooking to a whole new level. This stove is specifically designed to be a portable companion in the great outdoors, at your bug-out location, or the backyard during a crisis. Use for tailgating, picnics, and camping, too.
This beautifully designed stainless-steel stove combines science, safety, and efficiency. The legs are coated with anodized titanium which protects its steel-slate design. 
It is also the first all-purpose biomass-fueled stove with a USB-powered fan you can use to control heat from 425°F up to 1,200°F! The temperature control prevents you from burning or undercooking foods.
Designed by aeronautical engineer, Francis Tourigny: "We wanted to create a 'fire vortex' that controls oxygen flow and increases fire efficiency." 
Here's how it works:
First, oxygen feeds the flames. Small holes on the lower sides of the stove provide ventilation, forcing heated oxygen up through the stove. The heated air is fed directly through the top holes, creating secondary combustion. This allows the stove to reach high temperatures with smoke-free fire and minimal fuel consumption.
In addition, pressure from the fan circulates the air. This creates a pressure differential between the upper and lower chambers. The heated air circulates like a vortex due to this pressure differential.
The Inferno Biomass Stove can:
Boil water in 3 minutes (with Fire Starter Pouches or Fire Pucks)
Burn biomass including sticks, twigs, pine cones, and leaves
Also burn paper, pellets, and wood 
Reach temperatures up to 1,200°F
Create second burn for maximum fire efficiency thanks to double-walled design and vent holes
Control heat with a built-in Vortex Technology fan when powered by portable USB battery pack (uses 4 AA batteries, not included)
Cook with grip tooth holders for a pot or pan
Store easily
Transport compactly with foldable legs and pot or pan holders when placed in the camouflage cinch sack (included)
Instantly light up the dark and powerfully charge your critical devices.
Powerful Battery — 20,000 mAh lithium-ion battery can charge standard cell phones up to 4 times! This lithium-ion battery has gone through rigorous testing to ensure durability.
Built to Last — Carefully crafted with a premium silicone protective case. Boasts a durable build with a carabiner hook clip and side grips making it easy to hold. Waterproof and shockproof. 
Charge On the Go — Has 3 USB cable outputs. (Output: 5V 1A/2.1A; Input DC 5V/1A.)
Fast Charging — Micro-USB input to charge. Can charge and discharge more than 800 times. Includes a 4-stage power-level indicator. Recharges devices fast! 
Solar Panel & Wireless — Use the sun and recharge your devices on the wireless pad. Compatible with iPhone, Android, Mac, and PC.
LED Bank of Lights — Hold the power button to turn on a bright panel of LED lights with three settings: low, medium, and high.
Dimensions — Measures 2.7" x 0.7" x 5.7" and weighs 1.55 pounds.
Storage — Store in a well-ventilated area between the temperatures of 30°F and 100°F. Do not expose to temperatures above 140°F.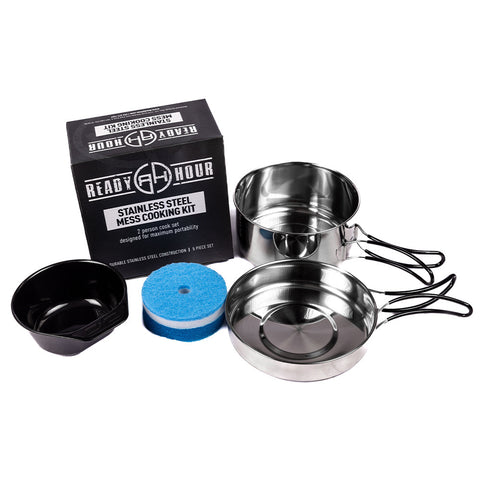 Finally, a cooking kit that fits in your bug-out bag!

Your bag of survival gear is called a "go-bag" for a reason. You must be able to GRAB IT and GO at a moment's notice!
However, strategically packing your go-bag with what you need—while ensuring it stays lightweight—can be a challenge.
With the Stainless Steel Mess Cooking Kit by Ready Hour, you'll have no more packing worries. Make a meal wherever you go without a clunky and cluttered assortment of pots and pans.

Includes FIVE cooking essentials.
Each piece fits into another for compact storage.
Lightweight and easy to carry.
Made from durable stainless steel.
Emergency fuel you can depend on!
As seen on Shark Tank! 
You bring the match, InstaFire will bring the fire! 
In an emergency situation, the ability to produce fire is critical. It enabled our primitive ancestors to become civilized. Have you ever wondered how you are going to boil water, cook your food, or heat your shelter in an emergency without electricity or utilities? InstaFire solves this problem.
This 2-gallon bucket of fire starter contains enough fuel to cook about 30 meals, or start a wood stove over 50 times. 
This fire starter has a 30-year shelf life and can be stored virtually anywhere, including your basement or storage room. It can also be stored right next to emergency food without your food taking on the taste of your fuel! 
No lighter fluid is needed to start a small fire. InstaFire Fire Starter burns clean without leaving a chemical taste on your emergency food. Use it as an environmentally friendly alternative to light your briquettes. It's excellent for grills, camp stoves or charcoal chimneys.
InstaFire Fire Starter Features:
Lights wet wood
Burns at 1,000°F
Water-resistant and functional in rain and snow
1 cup of fuel boils 4 cups of water in 10 minutes
Up to 30-year shelf life
Bucket measurements are 10.5" X 9.5" X 7.5"
Made in the USA
3-second light time
Sustains flame in up to 30 mph winds 
Safe to store near food
Made from natural, non-toxic, and food-safe materials
Benzene free
Works with the InstaFire Inferno Outdoor Stove
This innovative fire starter is made from recycled wood, volcanic rock, and a new patented blend of food-grade paraffin wax. It burns green—literally! Plus, the leftover ash can be used as a natural fertilizer.
PowerBank battery care: As with all battery-run devices, proper upkeep is critical for the prolonged function of your PowerBank. If the unit is left to sit for long periods, the battery can drain and become inoperable. Make sure to charge the battery every few months to extend its life and performance. 
Discreet, Secure Shipping
For your privacy and security, packages are delivered discreetly to your doorstep in unmarked boxes.
30-Day Returns
No questions asked on unopened, unused products.
Price Guarantee
If our online product price drops within 30 days of your purchase, we'll match the lower price, upon request, with an online store credit.
Here Are More Great Reasons to Buy from Us
We're Independent.
Around here, you won't find any slick bankrollers or financiers behind the curtain. We're 100% family owned and owe nothing to anyone but you!
This frees us up to do things the right way: craft our own recipes, cook our own food, fill our own food pouches, and ship our own orders. We own three large, fully stocked warehouses spanning over 500,000 square feet which ensures the quality packaging of your order.
Others cut corners and outsource their shipping to third parties and that's just not right. It's also why our quality and savings are better than the rest—and we pass those right along to you with fair pricing.
Free Disaster Replacement Warranty
We are proud to offer the survival industry's very first free disaster replacement warranty. If your My Patriot Supply purchases are destroyed in a natural disaster, our warranty replaces them all, and no cost to you.
Click here to sign up for My Patriot Supply's Disaster Replacement Warranty.
Record-Fast Shipping Speeds
Customers call our shipping "impressive," "flawless," and "man-that-came-fast" excellent.
Double Protection, No Cutting Corners
We take the extra steps that others don't to protect your food with double-sized oxygen absorbers and ultra-thick, four-layer pouches that we test again and again to ensure quality.
5-Star Customer Service (Literally)
We've served several million American families over the past decade. Our customers have spoken, giving us 4.8 out of 5 stars based on tens of thousands of reviews.
2,000+ Calories/Day in our Food Kits
Our food kits provide 2,000+ quality calories per day with the nutrition you need (you'd be shocked at how many competitors skimp and don't do this!).
We're Serious about Your Privacy
Ordering is 100% secure and we never sell your information. Our packages ship discreetly to your doorstep in a plain brown box with no branding.