When you need energy, you need Ready Hour Quick Oats.  They are easy to prepare and ideal for baking and dessert recipes, like no bake cookies and oatmeal raisin. 
Now you can have three #10 cans on hand instead of just one. Use one for every day, and store the other two for an emergency. Once you've opened a can, it is good for up to a year. 
Perfect for backpacking and canoeing adventures to keep you active and alert. Our Quick Oats have a 30-year shelf life unopened and will last a year after opening. Should an emergency strike, having oats as a source of nourishment is a great safety net. This item comes in a big #10 can size, about five times the size of a normal soup can.
The versatility of Quick Oats:
Breakfast staple
In homemade bread
In cakes or other baked goods 
Make delicious granola
Quick Oats Benefits: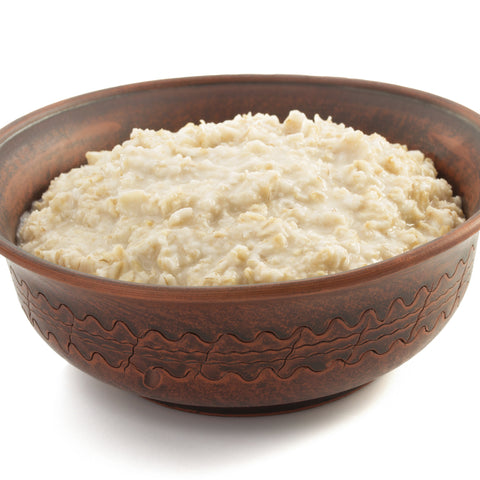 Ultimate convenience
Easy to prepare
Ideal for off-grid use

Perfect for baking and desserts
Up to 30-year shelf-life unopened
Up to 1-year shelf-life after opening
#10 can size, about 5x average soup can
Requires no refrigeration
Made in the USA
One can weighs 3.3 pounds, all three are 9.9 pounds
Directions for Quick Oats:
Discard the oxygen absorber packet immediately after opening.
Boil one cup of water with a pinch of salt.
Add 1/2 cup

 

Ready Hour

 

Quick Oats and Stir.
Cook for 1 minute, stirring frequently.
Remove from heat and allow the oatmeal to sit for 2 minutes.
Add toppings and enjoy!
Ingredients:
Quick rolled oats.
It's best to store this emergency food in a dry, cool location — a dark area, if possible, at temperatures between 55°F and 70°F. Actual shelf life may vary based on individual storage conditions.
Discreet, Secure Shipping
For your privacy and security, packages are delivered discreetly to your doorstep in unmarked boxes.
30-Day Returns
No questions asked on unopened, unused products.
Price Guarantee
If our online product price drops within 30 days of your purchase, we'll match the lower price, upon request, with an online store credit.
Here Are More Great Reasons to Buy from Us
We're Independent.
Around here, you won't find any slick bankrollers or financiers behind the curtain. We're 100% family owned and owe nothing to anyone but you!
This frees us up to do things the right way: craft our own recipes, cook our own food, fill our own food pouches, and ship our own orders. We own three large, fully stocked warehouses spanning over 500,000 square feet which ensures the quality packaging of your order.
Others cut corners and outsource their shipping to third parties and that's just not right. It's also why our quality and savings are better than the rest—and we pass those right along to you with fair pricing.
Free Disaster Replacement Warranty
We are proud to offer the survival industry's very first free disaster replacement warranty. If your My Patriot Supply purchases are destroyed in a natural disaster, our warranty replaces them all, and no cost to you.
Click here to sign up for My Patriot Supply's Disaster Replacement Warranty.
Record-Fast Shipping Speeds
Customers call our shipping "impressive," "flawless," and "man-that-came-fast" excellent.
Double Protection, No Cutting Corners
We take the extra steps that others don't to protect your food with double-sized oxygen absorbers and ultra-thick, four-layer pouches that we test again and again to ensure quality.
5-Star Customer Service (Literally)
We've served several million American families over the past decade. Our customers have spoken, giving us 4.8 out of 5 stars based on tens of thousands of reviews.
2,000+ Calories/Day in our Food Kits
Our food kits provide 2,000+ quality calories per day with the nutrition you need (you'd be shocked at how many competitors skimp and don't do this!).
We're Serious about Your Privacy
Ordering is 100% secure and we never sell your information. Our packages ship discreetly to your doorstep in a plain brown box with no branding.