We've all received a gift we don't want. We may have even been the person who gave an unwanted gift. In fact, that's highly likely according to statistics.
Some 61% of Americans surveyed admit to getting at least one unwanted gift over the holidays, totaling roughly 154 million American adults.
Americans have wasted $15.2 billion on unwanted gifts.
31% of people give unwanted gifts away.
20% of people exchange them.
7% of people sell them.
4% of people throw them away.
One of the reasons so many Christmas presents are unwanted is because they are impractical and unnecessary – often gifted just for the sake of giving, without much thought.
Give your loved ones something unique, thoughtful, and useful this Christmas: the gift of preparedness and self-reliance. These survival items may not be used right away, but your loved ones will be forever thankful when they face an emergency and have them readily available.
Read on for our top 15 Christmas gifts for those who love prepping.
Water Purifier
Water is essential for survival. Unfortunately, we can't always trust our water sources – especially if we are dealing with a natural disaster that affects water lines.

Alexapure Pro Water Filtration System: This unique system reduces up to 99.9999% of 206 contaminants from water. It is an excellent choice for an at-home water filtering system.
Survival Spring Personal Water Filter: This pocket-sized, straw-like water filter has the power to remove up to 99% of waterborne protozoa and bacteria. Through an innovative three-stage filtration process, the Survival Spring removes sediment and microorganisms from your water with each drink. Users can keep it with their emergency supplies or in their car console to use when disaster strikes.
Power Chargers
There is always a possibility that we will lose power. It may be a storm, or it could be a terrorist attack. No matter the cause, we need light and electricity to power through.
Wireless Solar PowerBank Charger & 28 LED Room Light: This solid wireless solar charger is perfect for emergencies, natural disasters, and power outages. It allows you to charge up to three devices at once! Plus, it has a 28 LED bank of lights and a wireless charging option for cell phones.
4-in-1 Emergency Solar Flashlight & AM/FM/Weather Radio: This portable device includes an AM/FM/Weather radio, LED flashlight, 4 LED room lights, and a cell phone/USB device charger. It utilizes a hand crank to operate or can be powered via a solar-powered battery, USB port, or standard batteries.
9-in-1 Multi-Function LED Solar Rechargeable Flashlight by Ready Hour: This isn't your standard LED flashlight; it's a survival tool. It includes a work light, LED flashlight, solar panel, power bank USB charger, RED SOS strobe light, seatbelt/rope cutter, glass-breaker hammer, detachable compass, and magnetic mount.
Fire Starters
Fire is useful in a variety of ways during an emergency. You can use it to stay warm, cook, or signal for help.
Tactical Fire-Starting Kit by InstaFire: This is an all-in-one fire kit allowing individuals to start a fire in any type of emergency situation. The carrying bag includes all-condition tools for starting fires (including a plasma lighter) and different types of weather-proof kindling.
Cross-Fire Plasma Lighter by InstaFire: Designed to get 350,000 lights even in the harshest conditions, this USB-rechargeable lighter is a must-have.
Fire Starter Pouches by InstaFire (3 packs): If you want an out-of-the-box stocking stuffer, consider giving these 25-year-shelf-life fire starter pouches that light wet wood and even burn on snow.
First Aid & Trauma Kits
Everyone should have a stocked first aid kit in their home. Ideally, it should be a kit with enough supplies to help in emergencies until you can reach a hospital.
MyFAK First Aid Kit by My Medic (111 pieces): The MyFAK goes well beyond your average first aid kit, allowing you to provide care in a variety of emergencies. The kit includes supplies from treating traumatic injuries that are usually missing from kits.
My Patriot Supply also offers the Recon First Aid Kit by My Medic with even more critical care supplies packed in a sturdy CORDURA nylon bag with shoulder straps.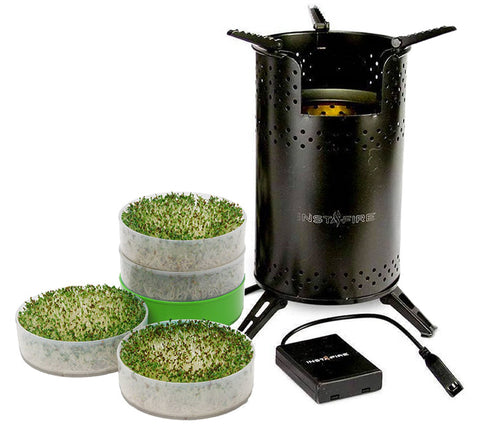 Long-Term Food Options
One of the best ways to become self-reliant is to know how to find, grow, and cook your own food. Giving your loved ones holiday gifts that enable them to do so will give them the power to keep themselves fed off the grid.
Deluxe Kitchen Crop & Seed Sprouter Trays: Introduce your loved one to an easy way to grow nutritious sprouts in their own home with this kit. This complete kit will have your loved one growing sprouts in a matter of days – even in winter.
Inferno Outdoor Biomass Stove by InstaFire: If your loved one enjoys cooking outdoors, the Inferno Outdoor Biomass Stove is an excellent choice. It's portable and easy to store, making it ideal for tailgating, camping, and emergencies.
Fishing & Hunting Kit by Ready Hour (127 pieces): For those just beginning their preparedness journey, this fishing and hunting kit has all the essentials needed for gathering food. The kit is also a smart choice for campers, hikers, and other outdoor enthusiasts.
Survival-Skill Books
A well-stocked library will come in handy should SHTF – especially if they are books with helpful information for survival. My Patriot Supply has several essential preparedness books covering topics such as living off the grid to foraging to medical care. One popular title in our collection is Back to Basics (A Complete Guide to Traditional Skills).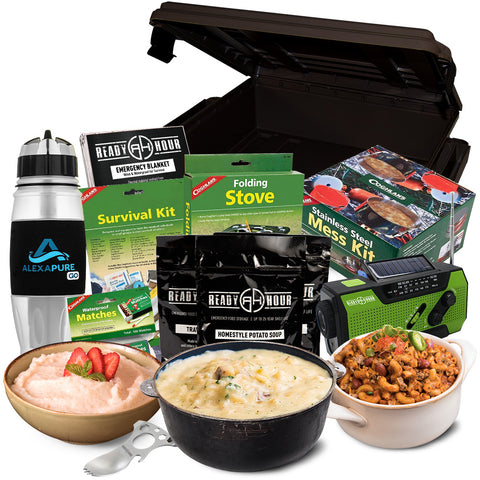 All the Essentials
If you have loved ones who are just beginning to take preparedness seriously, consider giving them a pre-packaged survival kit that includes the basics. This is a fantastic way to get them started and will help them feel prepared for a short-term emergency.
Preparedness Crate for Emergencies: Packaged in a water-resistant crate, this preparedness Crate for Emergencies has 65 total essential items and tools for survival. Your loved one will be prepared with everything from food to fire-starting to water filtration.
May you and your loved ones have a wonderful Christmas season.
In liberty,

Elizabeth Anderson
Preparedness Advisor, My Patriot Supply